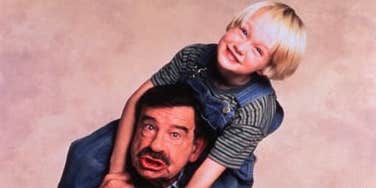 15 more answers about where your favorite child stars are now.
Last time we found out where Atreyu has been all these years and that our favorite brotherly duo, Pete & Pete, were still best friends. This time around we have a whole new list of celebrity child stars that we've managed to track down over the years. We found everyone from Ren Stevens, to Curly Sue and even tracked down the Pepsi Girl. (You know, the one that wasn't Britney Spears or Beyoncé or even really famous at all for anything other than her Pepsi commercials.)
Even though we like to remember them as they were in our favorite movies, we can't help but wonder what ever happened to the people that we idolized as children. Some of them kept going in the acting world. We obviously know that Britney Spears is singing in Vegas and that Ryan Gosling is acting and being a dad. We also know that Justin Timberlake recently became a father, but there are other stars that a bit more obscure and way more interesting. You don't need us to tell you where Lindsay Lohan and Amanda Bynes are. We are here for Punky Brewster and Squints!
Leave a comment about who you want us to find and maybe you'll see them in the future.
1. Christy Carlson Romano
Most guys had a crush her and most girls wanted to be her. We're obviously talking about Ren Stevens from Even Stevens.
2. Christy Carlson Romano
Believe it or not, Ren Stevens is still very much around, especially via social media. In 2013 she married a screenwriter/ex-Marine named Brendan Rooney. Now 31 years old, she resides in Brooklyn and acts in movies, but not anything big enough to be well-known.
3. Jacqueline Steiger
Ready for a random actress that you totally remember, but completely forgot about? Jacqueline Steiger played Amanda Thripp, aka the girl with the pigtails, in Matilda in the 90s.
4. Jacqueline Steiger
Although she's done script supervising on a couple short videos, Steiger has been out of the spotlight basically since that movie was made. She went to UCLA and now, she's kind of like us … she Instagrams pictures of food and hangs out with her friends. You can find her at Comic-Con volunteering every year in San Diego.
5. Hallie Eisenberg
This girl made people people believe in Pepsi. It was a time before Diet Coke ruled all.
6. Hallie Eisenberg
First of all, Hallie Eisenberg is in fact the little sister of Jesse Eisenberg. Yes, that's right, The Social Network star. It all makes so much sense, but we are still mind blown. As for Hallie, we haven't seen her since she appeared in the 2010 movie Holy Rollers with her brother.
7. Ashleigh Aston Moore
Maybe you remember her from her role on the TV series The Odyssey, but many of us remember her as Chrissy from Now And Then and the fact that she needs to eat every two hours or she gets nauseous.
9. Alisan Porter
We all know her as Curly Sue.
10. Alisan Porter
Porter is now the mother of two and started a mom blog called thelilmamas where moms can talk and share their stories. The last time she acted was in Meet Dave in 2008. In 2014, she admitted that she struggled with alcoholism, but has been sober for seven years.
11. Soleil Moon Frye
We all remember Punky Brewster. She was the best.
12. Soleil Moon Frye
Like Alisan Porter, Punky Brewster is now a mommy blogger with three young children of her own. While she has done some voice work in the last few years, she hasn't continued on with her acting career. Although you can always catch her in the episode of Friends where Joey dates a girl who keeps punching him.
13. Mason Gamble
Although he wasn't the original Dennis, he was the best menace of the 90s.
14. Mason Gamble
Guys, Dennis the Menace is 29 now. The most recent movie he was in was called Golf In The Kingdom and that was in 2010. According to Refinery 29 he went to dentistry school and then switched and became a marine biologist.
15. Austin O'Brien
You may remember Austin O'Brien as Logan from The Baby-Sitters Club or the cutie from My Girl 2, but we need to know where he is today.
16. Austin O'Brien
He was in things like Promised Land and Touched By An Angel after his earlier roles but has since put acting on hold for the most part. He has his own photography site now where he does wedding and event photography and takes lots of pictures of his adorable son.
17. Amber Scott
You remember Robin Williams' adorable daughter Maggie in Hook?
18. Amber Scott
… Well, she grew up and she's super pretty. She was only in Hook and one TV series documentary in the 90s. According to Refinery 29, she attended Trinity College. However … that's pretty much the most anyone has been able to find of her.
19. Charlie Korsmo
If you have Maggie Banning, then we should probably include Jack Banning from Hook.
20. Charlie Korsmo
Okay, so we know him from Hook, but seven years after that in 1998 he appeared as the nerd in the classic 90s rom com Can't Hardly Wait. That was the last time he acted in anything. Guess what? Now Korsmo teaches Law in Cleveland, Ohio. He graduated from MIT and then attended Yale Law School. After law school he clerked in the U.S. Court of Appeals for the Second Circuit with Judge Winter and worked as a litigation associate.
21. Blake McIver
He was Waldo in The Little Rascals and played Michelle Tanner's friend Derek on Full House, in case you forgot.
22. Blake McIver
In 2013 he told RumorFix that he'd been working as a go-go dancer for a year at gay clubs. "The tips were good. In fact, I raised so much money I was able to finish my record—mission accomplished," he said. In 2010, he came out of the closet. Hopefully we will be running into him at The Abbey sometime soon.
23. Patrick Renna
Ham from The Sandlot, Larry from The Big Green and lots of other people in the 90s.
24. Patrick Renna
Renna has guest starred on random TV shows over the years including Boston Legal, CSI and Bones. In 2014 he raised almost $76,000 on Kickstarter to make a movie with his friend Tommy Savas. He has been married since 2006 and he's currently filming a horror TV movie.
26. Chauncey Leopardi
Leopardi continued acting for a while in the early 2000s. He played the bully Alan on Freaks and Geeks and Kyle from Gilmore Girls. In 2013 he split from his wife Stefani. The couple has one child together.
27. Steven Anthony Lawrence
BEANS! Everyone remembers Louis' annoying neighbor Beans.
28. Steven Anthony Lawrence
Since the show, Lawrence has appeared In random short films and TV shows. He appeared on one episode of Weeds in 2010, and was also a frequent guest judge on Dance Revolution. "I've done a bunch of seminars at USC, I've done one at Berkeley, one at Pepperdine and a couple here at the high schools here in town in LA," he told Huffington Post.
29. Lily Nicksay
Lily Nicksay played the original Morgan Matthews on Boy Meets World, she was around for the best episodes in our opinion.
30. Lily Nicksay
Since her time on Boy Meets World, Nicksay has guest starred on shows like The Mentalist, 8 Simple Rules and Judging Amy. After BMW she spent 8 years in Scotland where she went to high school. And in 2014 she was working with James Franco on a movie based off one of his short stories.
Previous
Next
BEGIN