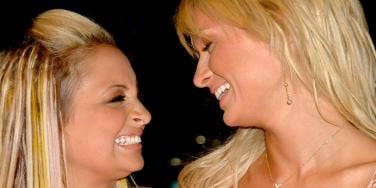 Some celebs have shady besties that they need to drop ... pronto.
When you are a celeb, one of the worst things to deal with is a bevy of hangers-on and those who seek to capitalize on your popularity, hard work, and good fortunes and turn it into a benefit for themselves. But there are lots of famous folks that actually invite the drama that comes along with fame-seeking attention whores or those with shady associations or reputations. You'd think that celeb handlers would intervene in these cases, but oftentimes, they can't or don't.
Case in point: The Kardashians, who bro out with Joe Francis, the dude behind Girls Gone Wild, which is even lower of a common denominator form of entertainment than any of the family's TV franchises. Like, why must Kimmy and mama Kris Jenner slum it? We can't figure it out. Even more confounding is Pamela Anderson and her relationship Rick Salomon, who made the sex tape with Paris Hilton.
Speaking of P. Hilt, she and her former bestie Nicole Richie have experienced a chasm in their friendship, with the hotel heiress saying that Nic knows what she did, which just sounds shady.
There are lots of shady lads and ladies riding the coattails of celebs. These are some of the most prominent.
10. The Kardashians and Joe Francis
Francis' claim to fame is the Girls Gone Wild franchise. You know, where co-eds act like sex-crazed maniacs. And since the Kardashians got famous because Kim had sex on kamera, maybe this "friendship" isn't that surprising after all.
2. Anne Hathaway and Rafaello Folieri
The Oscar-winning actress was once engaged to this swindler and was a member of the board of his charitable organization. When the news of his money-laundering duplicity broke, A. Hath swiftly split from the "entrepreneur," claiming ignorance.
3. Lady Gaga and R. Kelly
The video for their "Do What U Want" duet was shelved because it was reportedly deemed too graphic and depicted sexual assault. The negative press that Gaga's director pal Terry Richardson garnered at the time was also said to be a reason it was buried. It eventually leaked but should have remained unseen. It is ridiculously bad. Gaga is too good to sink to that level.
4. Wayne Gretzky and Janet Jones
The Great One's wife, a small-time D-list actress who was in one of the Police Academy sequels, was linked to a gambling ring, which is shady. There was also a rumor that she lied to him (!!!) about her age while they were dating. Then there was that time that she was hit by glass at the rink at MSG. She had a concussion, but he kept playing hockey. We haven't even mentioned the questionable actions of their daughter Paulina yet, but there's already a world of shadiness surrounding this pair.
5. Khloe Kardashian and Lamar Odom
Khloe Kardashian and Lamar Odom seemed happy, but they split amid rumors he cheated and that he was on drugs, which influenced his actions. That said, they have not officially divorced yet. Like, what gives?
6. Justin Bieber and Lil' Twist
The Biebs' friendship with rapper Lil Twist (and with Lil Za, for that matter) has attracted so much attention. The gossip suggests that The Biebs' pals sponge off him, live in his homes, do drugs, and engage in all sorts of other bad behavior.
7. Pamela Anderson and Rick Salomon
Pamela Anderson and Rick Salomon are currently embroiled in a messy split. They have broken up and reunited many times, but like what is Pam thinking? His claim to fame is his participation in the Paris Hilton sex tape. That's a stand up guy right there.
8. Lady Gaga and Terry Richardson
There is plenty of Internet evidence and discussions of fashion photographer Terry Richardson's predatory rep. Yet Lady Gaga loves him and even did a photo book with him. For someone who is supposed to be so open-minded, Gaga's repeat associations with Richardson are surprising, since he has been accused of mentally abusing women. Even Beyonce, Mariah Carey, and Selena Gomez have posed for his shots, which are rather basic, making his career more confounding.
9. Britney Spears and Sam Lutfi
When Brit was melting down in epic and very public ways, her "manager" Sam Lutfi was by her side. Her family blamed him for a lot of the pop diva's ills and Lutfi's rep has followed him, but he claims he is a good dude. Courtney Love backs him, because that endorsement carries soooooo much weight.
1. Nicole Richie and Paris Hilton
They were BFFs and had a TV show. But they fell out, with the heiress saying her former bestie knew what she did and that would be all she had to say on the matter. Hmmm ... it must've to involved a dude.
Previous
Next
BEGIN