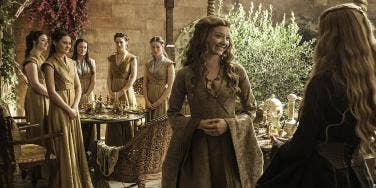 Get ready for 'Game of Thrones' to return!
While most people look forward to April for the warm, spring weather, Game Of Thrones fans know this month to be special for another reason — the season 5 premiere. I don't know about you, but I've had an iPhone calendar alert set for April 12 at 9 pm since, well since the finale of season 4. And no matter if you're a diehard fan who has read every book and fan fiction or if you are just getting into the show for the first time, we know that you probably will need a refresher about what happened in the last season. Beware: There are spoilers ahead!
The fourth season of Game Of Thrones brought plenty of new characters and storylines, as well as plenty of deaths (no surprise there!). The season starts off with the Purple Wedding and Joffrey's demise (about time!). We are also introduced to Prince Oberyn Martell who is in King's Landing to avenge his sister, and we see Sansa start to make friends with the Tyrell family. Jon Snow is reunited with Ghost, fights the wildlings at The Wall, and mourns the loss of Ygritte. All of this was just leading up to the season finale, which had just as many WTF moments all on its own.
Here are the most shocking moments from the season 4 finale and what we expect to see in season 5. Get ready!
14. Lady Stoneheart
Now, if you didn't read the books, just stop reading this right now to avoid any possible spoilers. The end of season 4 brought plenty of uproar from fans over the absence of Lady Stoneheart, and many people are speculating that the writers have completely cut her from the story. Will she finally be making an appearance in season 5? She better!
2. The most epic custody battle ever.
Arya and the Hound's unlikely kinship was weird at times, but he has helped keep her alive. Before her gruesome demise at the infamous Red Wedding, Catelyn Stark made Brienne promise to keep her girls safe, and that is exactly what Brienne thinks she is doing by killing the Hound. However, Arya doesn't stay long with Brienne, ditching her and heading for Braavos.
3. Bran will fly!
His faithful ambassador, Jojen, has died, but Bran Stark has finally made it to meet the Children of the Forest and his very own Three Eyed Raven. This man reveals that while Bran will never walk again, he will fly.
4. Cersei reveals the truth to Tywin.
Cersei has made it repeatedly clear that she, under no circumstances, will be marrying Loras Tyrell and moving to Highgarden. Typically stoic Tywin tries to hide his reaction when Cersei confirms that her three children were fathered by Jaime, not Robert Baratheon, but we can see him reeling from the news.
5. Jaime frees Tyrion!
While in the past Jaime has shown more alliance to his sister Cersei, there have been some hints of brotherly bonding in the past episodes (Jaime asking Tywin to spare his brother's life). This comes to fruition when Jaime frees Tyrion from prison, saving him from his execution. Tyrion meets with Varys, who has arranged safe passage for him out of King's Landing.
6. Tyrion gets his revenge. Twice.
Before Tyrion goes to his ship, he takes a detour into his father's room, where he discovers the naked Shae. He strangles her, then goes searches for his father, and after Tywin insults Shae a second time, Tyrion shoots and kills him with a crossbow. Phew.
7. There are MAJOR changes in King's Landing.
Life in King's Landing will definitely not be the same without the Lannister patriarch lording over everyone, and we can be sure to his children adjusting to life without him. As Tywin was the major supporter of merging the Lannister and Tyrell families, there may be some new opposition. Although, Tommen seems pretty taken with Margaery, so there is a good chance she will be the next queen. Hopefully her next wedding won't be as deadly as her last one.
8. Sansa changes roles.
During her time in King's Landing, Sansa was really a pawn of the Lannisters, as she had no real control over her life. However, while in the Eyrie with Littlefinger, she unveils a new look of darker hair and a dramatic black dress with a plunging neckline. Actress Sophie Turner has said that fans are going to like Sansa's new attitude, and trailers for season 5 show her finally returning to Winterfell.
9. Tyrion is on the run.
While travelling with Varys, Tyrion will get a taste of life on run, without his family's gold to keep him safe. There is no doubt he become involved in the latest conspiracy. Some clips of season 5 even show him sitting with Daenerys!
10. The Sand Snakes want revenge.
With all of the casting for both new Martell and Sand characters, there will sure to be an extended storyline into Dorne. I have no doubt the Sand Snakes will want some kind of revenge for Oberyn's death. What's more, a new actress has been cast to play Myrcella Lannister, who has been living under the care of Oberyn's older brother in Dorne.
11. Arya's adventures take her across the seas.
The last we see of Arya in season 4 is her sailing off to Braavos, with the help of the coin and the "Valar Morghulis" phrase she learned almost two seasons ago. Will she meet up with allies or foes while travelling in Braavos? Regardless, hopefully we will be able to knock a few more names off of her death list.
12. Stannis arrives at The Wall.
Stannis arrived after the major battle, and brought the Red Priestess, Melisandre with him. At one point, Melisandre seems to given Jon Snow a meaningful look, which will hopefully be explained in season 5. Knowing her strange affinity for bastards with royal blood, perhaps we will learn more information about Jon Snow's true parentage.
13. Dany's life wasn't all sunshine, rainbows and dragons.
By the end of the last season, Dany had locked up two of her dragons, lost control of the third, and has had freed slaves requesting to become enslaved once again. As the last surviving Targaryen, she will need to learn how her ancestors controlled their dragons while still managing to rule three cities, fast.
1. Dany locks up her dragons!
Daenerys loves her dragons. There's no denying it. And watching her go from screaming "WHERE ARE MY DRAGONS?!" in season 2 to actually locking up two of them was heartbreaking. However, the biggest and baddest of them all, Drogon is still out there, probably burning more innocent farmers and their kids.
Previous
Next
BEGIN