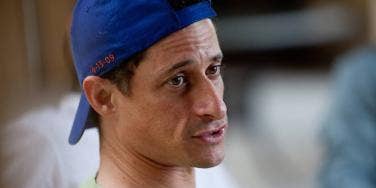 Let's be honest, the Anthony Weiner jokes pretty much write themselves.
Whenever something gets invented, there's always a group of people that are like, "Great, how do I make that sexy?" Cellphones, for example, gave way to texting, which gave way to sexting. Sexting is when you send someone a sexual text message or photo, and if you needed that explained to you then you probably don't own a cellphone and don't care about any of this.
The problem with sexting is that it leaves behind a document of the sexual act. If you're not doing anything with anyone you shouldn't be doing it with, then it can still lead to huge embarrassment. If you're trying to be sneaky about your sexual exploits, however, sexting is the worst way to go about it.
People think that they can get away with sexting, and they almost never do. Especially famous people. For whatever reason, celebrities like to think that they can get away with sending someone a picture of their private parts and no one will find out. Which is silly, because famous people have the most interesting private parts out there! Here are 10 celebs who got caught in a sext scandal that went way public.
10. Tiger Woods
In all honesty, based on everything he else he got caught doing, it would be weird if Tiger Woods hadn't gotten caught sending sexts out. When you're a famous person, maybe don't send aggressive sexts to anybody?
2. Ashton Kutcher
You can ask your mistress to delete the sexts all you want, if you're famous, they're not going to delete them. Ashton Kutcher found this out the hard way when sexted behind then-wife Demi Moore's back.
3. David Boreanaz
The guy who used to be Angel and is on Bones but no one's really sure what his name is got caught sexting with one of Tiger Woods' mistresses. This was after Buffy was long off the air, so she really downgraded.
4. Eva Longoria
It's rude to snoop through your significant other's phone, unless they're actually cheating on you. Eva Longoria found a bunch of saucy texts between her husband and another married woman. By "saucy," I don't mean the sort of stuff that goes on spaghetti.
5. James Franco
Even though he tries to seem like a smart guy, James Franco got caught sending suggestive messages to an underage fan on Instagram. Nothing illegal (depending on the state, mind you), but it was still pretty gross.
6. Jesse James
It's hard to deny that you're cheating when the person you're cheating with can just show everyone the texts you've been sending. In Jesse James' case, it made it impossible. Also, it's hard to deny that you're a neo-Nazi when you're photographed with all the memorabilia necessary to insinuate that you're one. Classy guy.
7. Justin Bieber
Justin Bieber wasn't really caught sexting, but when he was breaking up with Selena Gomez, he reportedly sent her a picture of "what she'd be missing." By that, we mean the career he had five years ago.
8. Ryan Phillippe
Ryan Phillippe was married to Reese Witherspoon, but he forgot two things. First, delete illicit texts with your mistress. Second, don't cheat on your wife, especially if she's way more successful than you are.
9. Tea Leoni
While Tea Leoni was still married to David Duchovny, she got caught sexting with Billy Bob Thorton. Hey, way to cheat on a hunk with a complete creep, you weirdo!
1. Anthony Weiner
This guy is really only famous because he got caught sexting while running for public office, especially because his last name is Weiner. If it hadn't completely ruined his life, you'd almost think it was on purpose.
Previous
Next
BEGIN