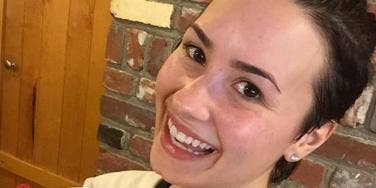 These stars look amazing naked ... from the neck up, at least.
Selfies are a hard, fast fact of life in the digital age. We're all plugged in, all of the time, so sharing selfies, while making funny, goofy, or silly faces is the norm. It's the new way to capture the moments in our lives and to allow them to live on. Then there are the no makeup selfies, which are largely the domain of celebs.
That's simply because we are so used to — programmed, even — seeing our stars with full faces of makeup, under the harsh glare of the paparazzi flashbulbs, requiring industrial-strength products to be used to achieve to patina of perfection. That's why we're always thrown for a loop and amazed when our fave starlets dare to bare and post makeup-free selfies.
One thing we've learned from the "no makeup" selfie trend is that there are some preternaturally gorgeous celebs out there and they do not need makeup since they have such gorgeous canvases to begin with. Demi Lovato is the spokeswoman for makeup-free selfies, as the beautiful (and freckled, which you can see when she goes without foundation) singer and actress posts bare-faced selfies every Monday for her #NoMakeupMonday campaign.
Want to see what glamazons like Jennifer Lopez, Kylie Jenner, Kourtney Kardashian and Lady Gaga look like, sans product and all sorts of fresh scrubbed? Let's dive right in, shall we?
22. Demi Lovato
Demi Lovato has lovely skin and freckles, which you can see in this makeup-less selfie. It really allows you to focus on her eyes. The girl is gorgeous!
10. Selena Gomez
Selena Gomez again because twice is nice. Justin Bieber's ex is a natural stunner, but she looked so fresh and innocent without any lipstick, liner, shadow, or anything!
9. Selena Gomez
The singer and actress' lips look like she applied some sort of moisturizing balm, but other than that, she was lean and mean with product ... or was she?
8. Drew Barrymore
Makeup-free suits the actress and mom of two, even though she has her own FLOWER cosmetics range. It was way refreshing to see her dare to bare.
7. Gwyneth Paltrow
The consciously uncoupled actress selfied more than half of her face, but it was a makeup-free half. She has somehow discovered some fountain of youth.
6. Heidi Klum
Here's Heidi Klum getting her hair did, without any makeup. She was still a stunning supermodel, even without any paint on her face.
5. Katy Perry
That's some sort of mask or moisturizer on the singer's face, but she's gone makeup-free because of it. Dem eyes!
4. Ariana Grande
The pint-sized powerhouse is known for her lipstick and her winged liner, but she was equally as beautiful without relying on a drop of cosmetics.
3. Madonna
In her 50s, Madge is still a head-turner, even when she opts for a makeup-less look.
2. Rita Ora
Singer and actress Rita Ora posted a photo from an early morning call time, daring to bare and be her beautiful, natural self, with an assist from some undereye patches of some sort.
11. Ashley Benson
The Pretty Little Liars actress was pretty much a Plain Jane and we loved her for it.
12. Miley Cyrus
This aerial selfie showed us Miley Cyrus naked ... this time, just from the neck up. The wild child is not cray cray with her makeup, but this is Miley at her most minimal.
21. Beyonce
Beyonce woke up like dis! Flawless as always.
20. Lady Gaga
Mother Monster ditched her outrageous makeup! Her sculpted brows and chocolate locks were beautiful statement makers all on their own.
19. Taylor Swift
The singer is blessed with such natural beauty and even when she ditched her signature red lipstick and winged eyeliner, she still stunned.
18. Julianne Hough
The singer, actress, and dancer didn't need a full face of makeup while doing yoga. What a looker.
17. Hilary Duff
Hilary Duff snuggled with her precious son, rocking blue hair without relying on makeup.
16. Rihanna
Rihanna changes her hair and her makeup on a daily basis, but when she went au naturel, our breath was taken. Stolen, even! It's just not fair.
15. Kourtney Kardashian
Whoa! The mom of three and eldest Kris Jenner spawn has perfect skin, bold brows, and is just lovely without all that spackle on her face.
14. Kylie Jenner
Kris Jenner's youngest daughter is known for her overly-lined, pouty, matte, and nude lips. But check out how gorge she was when she dialed it down and scaled back!
13. Khloe Kardashian and Kendall Jenner
Two more products of Kris Jenner's womb — Khloe Kardashian and Kendall Jenner — goofed off without an assist from makeup. Love the natural prettiness here.
1. Jennifer Lopez
The multi-hyphenate J. Lo is usually always seen with her bronzer, her smoky eyes, and her glossed lips. Here, when stripped of it all, she was more beautiful than ever.
Previous
Next
BEGIN