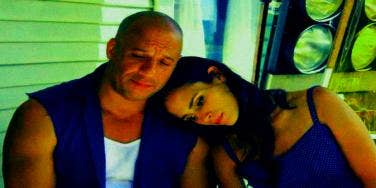 Bring a box of Kleenex!
The long-awaited 7th movie of the Fast & Furious franchise is finally here and Furious 7 doesn't disappoint. It puts our favorite group of criminals together in order to go up against Deckard Stew who is out for their blood to get revenge for his brother. Typically you wouldn't expect these movies to be emotional but due to Paul Walker's passing we advise for you to bring some tissues. Here are 10 moments in Furious 7 that will make you cry.
**WARNING SPOILERS!**
The more obvious tearjerker, of course, involves Brian with the big tribute to Paul Walker during the movies finale — but that's not the only moment that will bring tears to your eyes.
The group starts off in multiple emotional situations including grieving Han's death, Letty still trying to come to terms with who she is since losing her memory, Mia expecting another baby; and so much more.
After being tied to these characters for 14 years we can't blame anyone for getting upset seeing them go through some of the toughest situations they have yet to come across. Expect to be put on a roller coaster of emotions — from happy and anxious to devastated. Here are 10 moments that will have you tearing up like a baby!
Photo: WeHeartIt
1. Letty visiting her grave
While still struggling with her amnesia, Letty goes to her grave and tells Dom that she feels like she truly has died — she is no longer the girl that we once knew and loved. When she tells Dom that she feels like she can only give a certain amount of herself back to him, we feel so upset and worried that our favorite couple is breaking up.
Photo: WeHeartIt
2. Han's funeral
Seeing the crew come back together for such a sad occasion is upsetting. A very sad scene for those who really loved Han.
Photo: WeHeartIt
3. Letty and Dominic's wedding
Seeing Letty in her wedding dress is definitely a different look for her, which is moving. But also hearing their vows and how they use Dom's chain instead of a wedding ring is touching. Their ceremony very much represented them, and that's what makes it special.
Photo: WeHeartIt
4. Letty tells Dominic that she remembers everything!
We've all been waiting for this moment for awhile because we just wanted the old Letty back so bad! When she finally tells Dom it's more of a plea for him to keep on living, you can't help but hope he pulls through!
Photo: Pinterest
5. Mia and Brian's phone conversation
This couple has been through a lot and hearing them talk on the phone, uncertain if Brian would be able to make it home, is truly sad. When he tells her that he loves her, you're easily brought to tears.
Photo: Pinterest
6. The montage of Paul Walker as Brian
The whole time you might be wondering in the back of your head how in the world will they send off the lead actor but once it actually happens you can't help but feel overwhelmed. The montage they give is from the very first movie to the last and you can see right before your eyes how big this franchise was for everyone involved.
Photo: WeHeartIt
7. Hearing the characters say it will be their last ride
It's not truly a sure thing whether this will be the final installment to the popular franchise, but what's certain is that it IS the last movie for Paul Walker. It gives the words that we would usually just shrug off a much deeper meaning.
Photo: WeHeartIt
8. Brian playing with his son
This would usually be a corny ending to any movie but knowing that Paul Walker actually has a daughter that he will no longer be able to see is heartbreaking. It's a fitting and uplifting ending for the character.
Photo: WeHeartIt
9. Hearing "See You Again"
The song, "See You Again" by Wiz Khalifa is beautiful and really makes the montage great. Just hearing the lyrics will make you sob like a baby, forcing you to think about loved ones who are no longer around.
Photo: Pinterest
10. Dominic referring to Brian as his brother
During the voice over in the montage we hear Vin Diesel talk about Paul Walker and when he calls him his brother, you can't stop yourself from crying. You can really tell that this whole cast was a very close-knit group.
Photo: Tumblr
Previous
Next
BEGIN