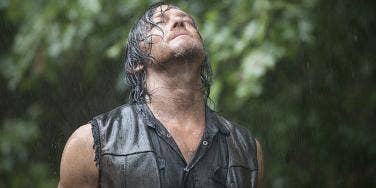 A Daryl Dixon obsession is always justified.
I am obsessed with Daryl Dixon.
The slightly racist redneck turned dark angel is the fan favorite on The Walking Dead for a reason. Everyone was terrified that Daryl Dixon would be killed off in the season five finale, and guess what? He wasn't, because he's f*cking perfect and the showrunners know better. Cars would flip, riots would start, Robert Kirkman would burn. (I'm basing this just on my own potential reactions to the news, to be honest.)
For reasons why I, like many others, am madly in love with Daryl Dixon, who I'm aware isn't even a real person because life isn't fair. If you're wondering whether you, too, have an unhealthy obsession with the brooding biker, well, check your vitals below. And don't try to fight it. Just let it happen and sit tight until October.
1. You wish you were Carol.
And not just because she's a huge badass. Though that's sure part of it.
2. Daryl Dixon makes you want to be a motorcycle.
3. Your coworkers do this to your desk.
When you're having a bad day or just don't feel like being productive, take a gander at a monitor you've never used covered with photos of Norman Reedus, who stars as Daryl Dixon on The Walking Dead. It's almost as good as the real thing. Maybe better when you consider in these shots he looks like he's showered in the last year.
4. Your boyfriend leaves this in your fridge.
5. You really hated Beth.
Aside from being useless, Beth Greene was infringing on your Daryl Dixon territory. As in, you got territorial about a fictional character.
6. Daryl Dixon lives in your apartment.
Daryl Dixon also keeps your apartment safe from potential burglars by mean-mugging them with his crossbow through your windows.
7. Your friends give you this birthday cake.
Daryl Dixon's biceps were f*cking delicious.
8. Stuff like this comes out of you. Constantly.
And you mean it. You stocked up on Plan B just in case you have to pull a Lori.
9. Although, if it's Daryl Dixon's kid, you might keep it.
And you'll name it "Lil' Asskicker."
10. Daryl Dixon keeps your feet warm.
It's the next best thing to a foot massage from Norman Reedus.
11. You sleep with Daryl Dixon every night.
You can even drool on him a little bit and he doesn't even get mad at you.
12. Your boyfriend lets you wear Daryl Dixon in a locket.
In fact, he buys it for you. He gets it. You have an understanding.
13. Your boyfriend fears for his own life during 'TWD' finales.
My poor baby. (He's not wrong.)
Previous
Next
BEGIN