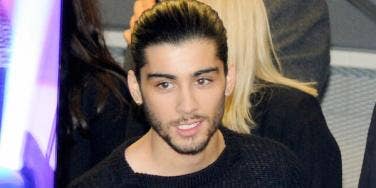 Who says quitters never prosper?
It's been a rough time as we experience all stages of grief following Zayn Malik's shocking departure from One Direction. With One Direction: This Is Us on repeat, we have to realize and accept that OD will never be what it was ever again. (And considering Naughty Boy keeps upping the drama here, who knows when it'll end?)
Zayn's exit wasn't expected — in fact, it was incredibly dramatic. And while he's doing what is best for his own happiness, he has also disappointed millions of fans as well as his four former band-mates.
As Zayn probably knows now, quitting is never easy. And when you must do it, you know you're bound to ruffle a few feathers, get some bad press, and then have to find a way to bounce back from the negativity.
Here are 12 more celebrities who have dramatically quit their jobs and made headlines while doing so.
1. Hugh Jackman quits 'X-Men'
Just confirmed this past week via Instagram, Hugh Jackman is hanging up his claws. In a picture of his hands, one with Wolverine-claws in tact, Hugh wrote, "Wolverine …One Last Time. HJ."
His upcoming appearance in Wolverine 3 will be his last, it seems as though he will not reprise the role for X-Men: Apocalypse. Hugh first brought Wolverine to the big screen in 2000, and has appeared as the character in six X-Men movies in addition to the stand-alone Wolverine films.
2. Kathy Griffin quits 'Fashion Police'
Earlier this month, Kathy Griffin announced her departure in a statement via Twitter. Her reasoning? "I have discovered my style does not fit with the creative direction of the show and now it's time to move on," she wrote. Soon after this news broke, an email she wrote to celebrity friends asking for support leaked. Her request was granted, as many stars tweeted to her backing her decision. Lena Dunham, Whoopi Goldberg, Kat Dennings, Mindy Kaling and more cheered her on for leaving the show.

3. Kelly Osbourne quits 'Fashion Police'
Just weeks prior to Kathy's parting with FP, Kelly left her post on the E! show. Following the drama regarding Giuliana Rancic's offensive remarks made about actress Zendaya's dreadlocks, Kelly didn't want to continue working in that environment. The network confirmed the split, saying Kelly would pursue other opportunities. She, nor Kathy, have been officially replaced, though many stars have been suggested as potential co-hosts. Since leaving FP, Kelly has appeared on The Talk and The Real. And we're sure her time covering red carpets isn't over either.

4. Shia LaBeouf quits Broadway production
In 2013, Shia exited his would-be Broadway debut in Orphans, starring Alec Baldwin. Citing "creative differences," the actor took to Twitter to share emails with AB and the show's director, giving fans a sneak peek at the behind-the-scenes drama. One email from director Daniel Sullivan said, "You're one hell of a great actor. Alec is who he is. You are who you are. You two are incompatible. I should have known it." Shia was replaced by actor Ben Foster.
5. Chevy Chase quits 'Community'
Surprisingly now in its sixth season (thank you, Yahoo! Screen), Community has made headlines multiple times for its behind-the-scenes dramatics, often involving Chevy Chase's long-standing feud with showrunner (and genius!) Dan Harmon. During filming of season 4, Chase officially quit the show. But before that, Chase never showed gratitude for his job — he would bash it whenever he had the chance. "I can't stand sitcoms," he told HuffPost TV in 2012. "I probably won't be around that much longer, frankly." Later that year, he said of his role, "I just sort of hung around because I have three daughters and a wife, and I figured out I might as well make some bread, every week, so I can take care of them in the way they want ... The hours are hideous, and it's still a sitcom on television, which is probably the lowest form of television." Ouch. And the most shocking story was when his profanity-laden voicemail for Harmon leaked. You will never look at Clark Griswold the same way again.
6. Charlie Sheen's attempts to get fired
Rather than quitting, Charlie Sheen made it impossible for creator Chuck Lorre NOT to fire Sheen from Two and a Half Men. In the dismissal letter sent from Warner Bros. to Sheen's attorney, the show cited numerous reasons for the separation: the trashed Plaza hotel room, dodging rehab, multiple media rants, etc. Plus, Sheen was in violation of his contract — he was unable to perform his duties on the show, he admitted to cocaine use, made derogatory comments about the show, and refused to continue on the show unless his demands were met. If you'd rather get fired than quit, Sheen can certainly teach you his ways.
7. Charlie Hunnam quits 'Fifty Shades Of Grey'
What could have been? We will never know what Fifty Shades of Grey would have looked like had Sons of Anarchy star Charlie Hunnam not quit the movie before filming began. When the casting was announced, Hunnam received both positive and negative feedback from the trilogy's fans. He pulled out just weeks later, in what seemed like a response to the backlash. The truth? He felt he was overworked. "I was going to finish playing a psychopath who'd just lost his wife [in Sons of Anarchy], and five days later I'd be on set playing Christian Grey," he explained to Men's Health. "I was like, 'This is going to be a ... disaster.' It was the opposite of how I've tried to ground my career, not stretch myself too thin, and always do my homework."
8. Christopher Abbott quits 'Girls'
In 2013, Christopher Abbott made headlines for leaving HBO's Girls after the second season. Rumors swirled that he butted heads with creator and star Lena Dunham and had "creative differences" with the direction of the show. Speaking to The New York Times, Abbott cleared the air about his reason for quitting. "The world that Lena [Dunham] wrote was very real, especially in New York, but it wasn't as relatable for me on a personal level," he said. Eh, we never really liked Charlie that much anyway.
9. Dave Chappelle quits 'Chappelle's Show'
The "stress to create" was the reasoning behind the comedian halting production on his hit Comedy Central show. In 2006, he explained his decision to Oprah. "I wasn't crazy but it is incredibly stressful," he said. "I felt in a lot of instances I was deliberately being put through stress because when you're a guy who generates money, people have a vested interested in controlling you." He felt that as the show grew in popularity, he wasn't happy with the work environment. "I would go to work on the show and I felt awful every day, that's not the way it was," he said. "I felt like some kind of prostitute or something. If I feel so bad, why keep on showing up to this place? I'm going to Africa. The hardest thing to do is to be true to yourself, especially when everybody is watching." In an appearance on The Late Show with David Letterman last year, Chappelle said he never quit, he's just seven years late to show up for work. We wish we could use that excuse!
10. Christian Bale quits Steve Job biopic
In November 2014, the Dark Knight pulled out of his role in a forthcoming biopic about Steve Jobs, directed by Danny Boyle and written by Aaron Sorkin. The role did sound more demanding than most. Sorkin knew Bale could do it, saying, "There isn't a scene or a frame that he's not in. So it's an extremely difficult part and he is gonna crush it." After deliberation and conflicting feelings, Bale decided he wasn't feeling the part. The movie is currently filming with Michael Fassbender as Jobs and Seth Rogen as Apple co-founder Steve Wozniak.
11. Sacha Baron Cohen quits Queen biopic
Citing our favorite excuse of "creative differences," Sacha Baron Cohen quit his role as Freddie Mercury in a biopic about the singer after butting heads with band Queen, who has script and director approval. Cohen had hoped the movie would depict all aspects of Mercury's lifestyle while the band had hoped the film would be more family-friendly. Earlier this week, reports stated Cohen had signed back on, but that was merely a joke from Queen manager Jim Beach. The movie has been in development for seven years.
12. Zendaya quits Aaliyah biopic
When cast as late singer Aaliyah in the Lifetime biopic, Zendaya took to Twitter to share her excitement. "I'm just a 17-year-old girl who got cast to play one of her biggest inspirations ‪#positive," she wrote. Despite the joy Lifetime and Zendaya shared for the movie, Aaliyah's fans and family members were less than enthused. Fans started a petition to have the movie halted, and Aaliyah's family said they were never consulted about the movie. And well, it's a LIFETIME movie — it's not going to be good. Just days after Zendaya announced the role she quit. "I felt like something with the production [wasn't] all the way there, the project wasn't all the way there," she said. "If I'm going to do something for someone I care about so much, I have to do it the right way." The movie aired last November with actress Alexandra Shipp in the lead role.
Previous
Next
BEGIN