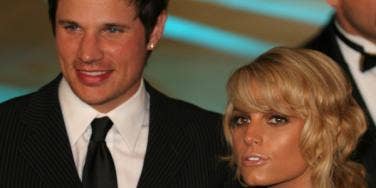 These celebs waited for the wedding to cash in their V-cards.
Sometimes, being old fashioned isn't a bad thing ... like when it comes to sex and the sanctity or confines of that sacred institution of marriage. While it seems like people are having sex at an earlier clip these days, which can be terrifying, there are several celebs who waited for marriage before having sex for the first time. How romantic, right?
It's also against the grain and traditional, and actually pretty cool, too.
Did you know that singer/designer/actress Jessica Simpson was a virgin when she wed her first husband and reality show co-star Nick Lachey? Yep, she was. And she's not the only one. There are plenty of other celebs that opted not to cash in their V-cards until they swapped vows.
There is also one athletic celeb who is remaining a virgin until he finds Miss Right, due to his religious convictions, while one high octave songbird adopted a "secondary virginity" stance after divorcing her first husband, waiting until the wedding night before consummating her relationship with Hubby No. 2.
The best thing about the waiting game is that the anticipation pays off in intense ways! These awesome, march-to-the-beat-of-their-own-drum celebs waited for their wedding night before getting horizontal.
10. Lisa Kudrow
The Friends star actually wasn't a virgin when she wed Michael Stern. She reportedly made a comment about wanting to wait until marriage to have sex and it was taken out of context, leading to this long-standing rumor that was just debunked.
2. Tina Fey
The funny lady waited until she met husband Jeff Richmond to have sex. She was 24. So it's tricky, since they did the deed before they were married, but her husband was still her first.
3. Zac Hanson
The pop star and boy band-er waited until he was wed to wife Kate before he Mmmbopped! They married in 2006, when he was 22. He said it was a personal choice.
4. Mariah Carey
The elusive chanteuse was reportedly a secondary virgin of sorts when she wed Nick Cannon, from whom she recently split. What's that mean? She made Cannon waited until they were married to consummate their love so it would be special. They married after dating just two months, mind you.
5. Tim Tebow
Okay, so we cheated a bit here. The hunky and handsome football star is not married but he is a virgin and plans to remain so until he marries, due to his religious beliefs.
6. Adriana Lima
The super hot supermodel married at 27 and was famously and admittedly a virgin at the time, saying that any man who was going to be with her had to respect her choice to keep sex inside the bond of marriage. Amazing, right?
7. Jessica Simpson
When the reality star, singer, actress, and fashion designer married Nick Lachey, she was 23 and a virgin. They've long since divorced, but it's common knowledge that this Texas girl waited 'til her wedding night.
9. Carrie Underwood
The country singer always said she waiting for marriage, so that'd mean she cashed in her V-card with hubby Mike Fisher in 2010.
1. Tamera Mowry
Sister Sister star Tamera Mowry also had a tricky situation. She had sex with her husband just once during courtship, doing the deed at 29. That was the one and only time, though. She felt guilty and remained further celibate until the ring was on the finger, due to her belief system.

Previous
Next
BEGIN