Photo: WeHeartIt, WeHeartIt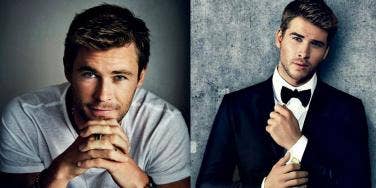 Celebrity sibling rivalries can get INTENSE.
Having a brother or a sister is like having someone in your life that you have to compete with. Always.
I mean, like, you love your siblings, but you also have to do better than them. They're like another version of you, just a little bit older or younger. It's a different model. If your brother or sister is doing better than you, then that means that you're doing it wrong. They're just another version of you. You don't want to be the less successful version of you. For example, if you're brother is a doctor and you have to steal your parents Netflix password, then you're just a bad you. You have to stay ahead of them, in some way. Famous siblings have it worst. They have to keep being more famous than their siblings.
It's really hard to stay famous, but these people have to stay more famous than one specific person. If they don't, then they don't get to brag at Christmas. Here are 10 celebrity sibling rivalries—including which celebrity is winning. (It's not always who you think.)
1. The Wahlbergs
Mark Wahlberg used to be Marky Mark and roll with a funky bunch, and his brother Donnie was in The New Kids on the Block ...
2. The Wahlbergs
... Eventually, Marky Mark became Mark Wahlberg and Donnie Wahlberg became Mark Wahlberg's brother. And Jenny McCarthy's husband. What a sad life.
3. The Roberts
It must be hard to have America's sweetheart as your sister. Eric Roberts is Julia Roberts' brother, and he's usually probably pretty jealous of his sister.
4. The Roberts
Eric can say he got beaten up by Batman, which is something Julia's never achieved. Booyah!
5. The Maras
I'm sure Rooney Mara has always been jealous of her sister Kate Mara for having a normal name. Rooney seemed to be pulling ahead of her sister by appearing in movies like The Social Network and The Girl With the Dragon Tattoo.
6. The Maras
... Then Kate got thrown in front of a train on House Of Cards and now she's the lead Mara these days. Which is weird, because she can't really act that well and Rooney was nominated for an Oscar.
7. The Knowles
Clearly, Beyonce is the lead Knowles sister. Solange doesn't even come close.
8. The Knowles
The only time people really talked about Solange was when she beat up Jay Z, but that didn't really help her grab someany fans.
9. The Kardashians
If you've been Keeping Up With The Kardashians, then you have to get your life together. Also, Kim is clearly winning. Kylie thinks she's pulling ahead, but she's dumb.
10. The Hemsworths
Chris Hemsworth took a role in the Marvel movies. Liam Hemsworth took a role in The Hunger Games movies.
11. The Hemsworths
At first, it was pretty close. Now, Chris is winning and is the sexiest man alive. (Also, Chris and Liam competed for the role of Thor and Chris won. Because he's perfect.)
12. The Gyllenhaals
The Gyllenhaal siblings have pretty similar careers, but Jake definitely has a better face than Maggie does.
13. The Gyllenhaals
Not that it matters, but when it comes to sibling rivalries, you take whatever you can get.
14. The Francos
James Franco is currently the more successful Franco brother, but no one finds Dave as annoying. And Dave probably has never been caught openly hitting on an underage girl online.
15. The Francos
Also, Dave has never made a horrible movie that almost started a war with North Korea, so he's got that going for him.
16. The Deschanels
Zooey Deschanel stars on New Girl, Emily Deschanel's got Bones. So, Zooey has a show that's popular ...
17. The Deschanels
... and Emily has a show that you're suprised is still on the air. (Yes, Bones is still on the air.)
18. The Afflecks
Casey Affleck is the less controversial Affleck brother, but Ben is an award winning director ...
19. The Afflecks
... And Ben Affleck is the new Batman. Even if he's not a great Batman, he's still Batman. That's a win forever.
Previous
Next
BEGIN