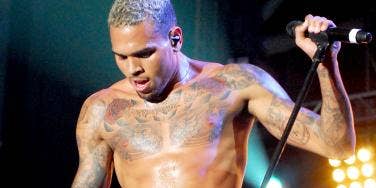 These stars probably regret these terrible tattoos.
There is one golden rule of getting a tattoo: Think before you ink, since it's, you know, permanent. Sadly, a lot of celebs totally ignore that credo and go under the needle foolishly.
There are loads of celebs with hideous, regrettable, and just plain bad tattoos that have us scratching are heads and asking, "What in actual f--k where they thinking?" Oh wait, they probably weren't thinking at all.
We're talking about you, Chris Brown, and you, Rihanna, and you, Lady Gaga, and you, Cheryl Cole, and you, Harry Styles. A bad tat job can totally ruin an outfit or a body!
It sucks when you are a celeb with a shoddy tattoo, since you are photographed more often than most normal people and you are often snapped in really bright lighting, further demonstrating just how atrocious that neck piece of tramp stamp really is. Covering up a poorly done tattoo or a questionable design is painful and so are lasers. Many times, you are stuck with a bad tattoo for life.
Another important thing to apply to tattoos: If you can't tell what it is from 50 feet away, it's a bad tattoo.
Even though there are countless bad tattoos in Hollywood, these are some of the worst offenders! We can't decipher what some of them are from, like, three feet away. Tsk tsk.
1. Megan Fox
Megan Fox= had a huge and unhideable Marilyn Monroe portrait on her arm. Had. She had it lasered off. It's a shame, since it was actually decently done, but she said it was full of negative energy, due to the bombshell's mental issues. Ridic.
2. Mel C of the Spice Girls
Sporty Spice, aka Mel C, has a lot of inkings, but the band around her arm is so "meh." It screams, "Sick tribal, yo."
3. Justin Bieber
There is a lot of bad Bieber body art to be seen. What happened to the clean-cut, Canadian cutie? Sigh.
4. Justin Bieber ... again!
Here's more of the Biebs' body art. That eye? It's a rendering of his mother Pattie's peeper. All eyes on him. We get that it's like a reminder that mom is watching when he may be engaging in bad behavior, but isn't it creepy to have mom close by, all the time, during things like sex?!
5. Jesy Nelson of Little Mix
Little Mix songbird Jesy Nelson added some words to her arm, along with a big ass rose. They seem so disconnected and without symmetry. Plus, we have no idea what the hell it says since the font is unreadable. (We think it says "once upon a time.") We gave up after two minutes of flipping the screen and tilting our heads.
6. Zayn Malik
Like his now-former bandmate Harry Styles, onetime One Direction singer Zayn Malik seems hellbent on covering his arms in as many trashy tattoos as possible. It would be fine if they told some sort of story, but they feel random.
7. Oh look! More Justin Bieber tats!
8. Chris Brown
The oft-beleaguered Breezy got a neck tattoo and some thought it was an image of Rihanna's battered face. It wasn't RiRi; it was a Day of the Dead-inspired mask. But if it looked like what it wasn't, that means it's a totally and completely crappy tattoo.
10. Sinead O'Connor
What do you say about a singer like Sinead O'Connor whose biggest claim to fame besides one hit song is tearing up a pic of the Pope on SNL, getting a really poor portrait of Jesus smack dab in the middle of her chest? There are no words. The Pontiff isn't proud. Why'd she have to drag JC into this mess?
11. Lena Dunham
Girls guru Lena Dunham has a floral scene from The Story of Ferdinand, about a bull that loves flowers on her arm and while it has a deeper meaning and isn't flash off the wall, it's scribbly and just looks like it was done while she and the tattooist were riding a dirtbike, Jackass-style.
12. Rihanna
Rihanna is collecting tattoos like it's her job. She has delicate ink on her neck, a big piece under her boobs, and a giant, glove-like etching on her hand. The hands show signs of aging quickly, so ... she better invest in a lifetime supply of Chanel gloves.
13. Harry Styles
Someone needs to stage an intervention with Hazza, stat. The One Direction star is adorbs, but he has covered his body with a bunch of poorly done, disconnected tattoos that look as though he went to a stick-and-poke party and told a bunch of drunk idiots to go to town on him. How can someone so cute have so many hideous inkings? Memo to Styles, Harry: STOP. NOW.
14. Pink
Pink has a load of bad tattoos, sprinkled all over her body. We don't know where to start...
15. David Beckham
Becks has two sleeves and they're not atrocious. They just look like congealed globs of black ink.
16. Miley Cyrus
The wild child of pop celebrated her Rolling Stone cover by getting the mag name inked on the bottom of her feet. Unless Patrick Schwarzenegger has a foot fetish, no one will ever see this tootsies tattoo, as it likely wears off from friction.
17. Kelly Osbourne
Former style cop and Fashion Police star Kelly Osbourne launched a clothing line named "Stories" and swiftly etched the word on her head. At least she can cover it with hair when her side-shaved 'do grows out.
18. Lady Gaga
Mother Monster is collecting lots of art up and down the side of her body. She immortalized her precious Little Monsters with a monster paw on her side. It would have been way, way cooler on her shoulder, further connecting her with fans. But like real estate, it's all about location, location, location with tattoos.
19. Katy Perry
Katy Perry: The singer commemorated her 2015 Super Bowl Halftime performance with this simple, Roman numeral tattoo on her finger. It's not exactly bad. It's just... zzzzzzzzz. Boooorrrrriiiiinnnngggg. We like the fading Hello Kitty on the other finger better and we can't even see it.
20. Cheryl Cole
Cheryl Cole is huge in her native UK and relatively unknown in the U.S. What should be unknown and unseen is that massive rose tattoo covering her bum and lower back. It's like a permanent pair of rosey undies. It has to be a case of tattoo remorse, too.
21. Cara Delevingne
Cara Delevingne has great brows. Good tattoos? Not so much. She has a lion on her finger and the word "bacon" on her foot. Yes, bacon. Guess she loves the candy of meats.
22. Loudres Leon
Being that her mother is the Queen of Pop, Madonna- we don't really understand why she opted for "mom" and "dad" Their initials would've been nicer than this...
23. Ed Sheeran
No- just no, Ed! That's too massive of a lion to have on any part of you...
24. Stephen Baldwin
I mean... he's known to be a little on the crazy side, right? Might explain why he has HM for Hannah Montanna tattooed on his shoulder.
25. Mike Tyson
In all honesty, you can't have a bad celebrity tattoo list without including Mike Tyson's. I mean just look at the thing!
26. Kate Gosselin
Pooh Bear on your ankle?! Yet another reason to have everyone hating on the poor mother of 8!
27. Steve-O
This one shouldn't surprise us at all, yet it's so ridiculously hideous!
28. Pamela Anderson
We'll never quite understand those late 90's arm tattoos. Just how we don't get why Pam Anderson has one, and we still can't make out what it is. From a far, I kind of see a fish, looking closer it looks like wires? We'll leave this explaining to, Pam.
Previous
Next
BEGIN