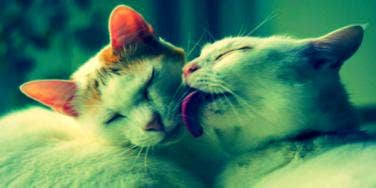 Let's do it like they do on the Discovery Channel.
Humans aren't the only species with kinks and preference — animals have bizarre mating rituals, too! Some of their mating rituals can be sweet (like the creative bower birds) but most are just ... super-freaking weird (those poor praying mantises). Nonetheless, just like human beings, creatures in the animal kingdom follow strange albiet natural rituals to procreate and heck, some even have "rules" of consent (If you value your life, do NOT force a female hedgehog to do something she doesn't want to do).
Here are a few of the oddest mating rituals in the Animal Kingdom:
Photo: WeHeartIt
Emperor Penguins sing to attract their mates.
If you've seen "Happy Feet", then you already know that male Emperor penguins sing (called "bugling") to attract a female. But it's more than that. Penguins actually have their own breeding site, often walking 30 to 70 miles to reach it. Although penguins are monogamous, if they can't find their mate in the crowd the following year, they'd often move on and mate with another. Hey, if you gotta breed, you gotta breed. So much for faithfulness.
Photo: iStock
Blue Manakins have wingmen.
Think you have the best wingman ever? Think again. Male Blue Manakins has a team of wingmen (wingbirds?) to attract a female. When an alpha Blue Manakin sees a female, his team of wingbirds fly around her, creating a buzzing noise and capturing her attention. When the show is over and the female decides she likes him, they get it on while his buddies congratulate each other on a job well done.
Photo: iStock
Porcupines enjoy the gift of golden showers.
A female porcupine has the best weapon against unwanted sexual contact. With a flick of her powerful quills, she can impale a male porcupine before he could even think about mating with her. So a male porcupine will oftentimes give her a gift in the form of a golden shower (aka peeing on her) to show that he desires her. And if she's interested, she'll show him the only part of her that doesn't have quills: her belly.
Photo: iStock
Giraffes drink their mate's urine.
It's not just porcupines who find golden showers irresistible. In fact, male giraffes take it a step further and actually taste their object of interest's urine. Apparently, this helps them determine if she's ready to have his children. Then, he affectionately rests his chin on her back and if she likes him back, she won't kick him away.
Photo: iStock
Praying Mantises eat their mate's head in the middle of sex.
When it comes to copulation, male praying mantises get the short end of the stick. For one, they have to be really, really, really sure they want to mate with a particular female. Why? Because 16 percent of the time, the female gets hungry in the middle of the act and instead of waiting until after to order post-sex pizza, she'll just chomp on her partner's head. On the bright side (for the female), she can still have his babies even after he's headless.
Photo: iStock
Honey bees die immediately post-sex.
Much like the male praying mantis, male honeybees get the short end of the stick to ensure the survival of their species. The Queen Bee takes her would-be fathers of the next generation of the colony on a flight, get to know them for a bit, and hear about their hopes and dreams.
Then, the honey bee that gets to the Queen first can mate with her seven to ten times before his endophallus (the bee version of a penis) literally rips off and sticks to the queen. Then, he dies (at least he doesn't get eaten). Another honey bee can remove it from her to get his turn (and also dies). The only one who really benefits from this orgy is the Queen.
Photo: iStock
Male Anglerfish physically can't live without female anglerfish.
Talk about co-dependency! Male anglerfish are not only much smaller than female anglerfish (small enough that scientists used to think that they were parasites attached to the females), they literally can't live without them! In return for sharing her circulatory systems and providing sustenance, the female anglerfish receives sperm from the attached male. And you thought your ex-boyfriend was clingy!
Photo: iStock
Bowerbirds build love nests.
At least bowerbirds have style. They not only dance to attract females (as is typical in most bird mating rituals), they also decorate their bachelor pad for her (called a "bower".) They use anything shiny and pretty they can find from flowers to bottle caps. He then shows this off to the object of his desire and if she likes it, they'll mate under the canopy of his beautifully-decorated bower. Talk about setting the mood.
Photo: iCredit
Giant pandas watch porn.
Apparently, these giant cuties are just so disinterested in sex that breeding them became an issue for some panda research facilities in China. And since female pandas only have a three-day breeding cycle, how could they keep these furry black and white critters from being endangered? Chinese breeding centers soon discovered the answer: panda porn.
Clown fish can change genders.
I hate to ruin your childhood but…. Nemo's dad was a girl. Clownfish are hermaphrodites. They usually live in large groups with one dominant female (the biggest of them all) with the rest being male. The second largest clownfish is considered the second-in-command and the female's mate. None of the other males can mate with her.
Remember that scene when Nemo's mom dies protecting his brothers (obviously no sisters)? Well, if the dominant female dies, her second-in-command becomes the new dominant female and the next largest becomes the new second-in-command and they go and make more babies. So in short … Nemo's dad was actually his mom.
Previous
Next
BEGIN