Photo: WeHeartIt, Twitter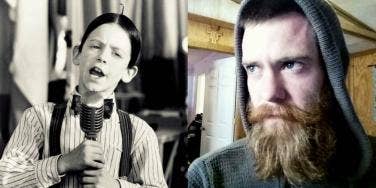 Our favorite child stars are all grown up now.
Child stars are literally the people who help mold us into the people we have become.
Okay, what we're trying to say is we watched too much TV as children. We watched them on shows and in movies, we wanted to be them, we are obsessed with them and maybe even had posters of them on our walls. With each generation comes a new crowd of child actors. While some of them stay in the spotlight, others we love for awhile and then kind of forget about ... but not to say we stop loving. In fact, most people get way more amped up to meet celebrities that they grew up with versus a currently relevant one that they really don't care about, but we also become curious over the years what happened to our favorite stars.
Where do they go when they grow up? One of your favorite child stars is actually an on-set electrician now on high-profile movies, another one of your faves has made an acting name for herself in the horror film realm of movies and some of them are still in the spotlight and will probably never fade away (which is totally fine too). Here are what our favorite 15 child stars are doing with their lives today:
1. Mary-Kate and Ashley Olsen
We basically grew up with these girls from Full House and their Olsen and Olsen mystery agency to their straight-to-VHS movies. No contest, Holiday In The Sun was the best.
2. The Olsen twins today
While both of the 28-year-old Olsen twins have stopped acting and moved into the fashion world, Mary-Kate is engaged to her 45-year-old boyfriend Olivier Sarkozy and Ashley is dating Foxcatcher director Bennett Miller, 48. Guess they both have a thing for older men.
3. Dylan and Cole Sprouse
It's been 10 years since Dylan and Cole started on Suite Life Of Zack And Cody. Of course, we all know that they played Ross' son Ben on Friends too.
4. The Sprouse twins today
5. Jonathan Lipnicki
Maybe you remember him as the kid in Stuart Little or maybe you know him as the Jerry Maguire kid. Either way, we grew up with Jonathan Lipnicki.
6. Jonathan Lipnicki today
He starred in a hilarious YouTube video "You Used To Be Cute" making fun of being a child star. And he's been in a few things over the years, but nothing big. He is currently working on a movie called Boone: The Bounty Hunter, which Spencer Grammar will be in with him.
7. Devon Sawa
Every single girl remembers Devon Sawa because they were desperately in love with him. He won our hearts in Little Giants and then was every teenage girls' dream in Casper and Now And Then. Devon Sawa forever.
8. Devon Sawa today
The 36-year-old is still acting and has appeared in things that you've probably seen. Any Nikita fans out there? Sawa was in 32 episodes between 2010-2013. He is currently working on three movies including Punk's Dead (a follow-up to SLC Punk!), The Exorcism of Molly Hartley and Life On The Line with John Travolta and Kate Bosworth. So, you can still see him around. Also, he had a baby in January 2014, which was super depressing.
9. Raven-Symoné
We grew up watching Raven on The Cosby Show while the younger crowd grew up with her on That's So Raven.
10. Raven-Symoné today
She is still acting. She was two episodes of Empire, which is blowing up. In 2013 she came out as a lesbian, but didn't want to be labeled as gay. "I want to be a human who loves humans," she said on Oprah.
11. Jonathan Taylor Thomas
If you weren't on team Devon Sawa, you were probably on team JTT. He was adorable and we watched him grow up on Home Improvement. Also, his pictures were plastered on our walls from teen mags.
12. JTT today
At 33 years old, Jonathan Taylor Thomas hasn't really been in the spotlight. He returned to TV in 2013 on Last Man Standing reuniting with Tim Allen. He has been on four episodes of the show, including one this year, and even directed two episodes in 2014.
13. Marla Sokoloff
You remember Marla because she played Gia in Full House. She wasn't the best influence on Stephanie, but neither was Kimmy on D.J. She was also on an episode of Boy Meets World, played Cokie in The Baby-Sitters Club and was Jody on Party of Five.
14. Marla Sokoloff today
Today Marla is still on TV. She was on ABC's The Fosters last year and this year appeared on two episodes of Grey's Anatomy. She has been married since 2009 and has two children.
15. Scott Weinger
Of course we had to include D.J.'s boyfriend Steve to this list because it's Steve. Also, he's the voice of Aladdin … ALADDIN! It's amazing.
16. Scott Weinger today
Although he hasn't been acting a lot since his days playing Steve, he is a supervising producer now and he's worked on ABC shows including Black-ish and Galavant. He was also a writer/producer on the reboot of 90210. Crazy!
18. Andrea Barber today
Andrea has retired her neon tights according to her Twitter account. Barber is the mother of two and is divorced as of 2014. She and Candace Cameron-Bure are still good friends. In 2013, they reunited with Katie Couric and told her they would be attending a New Kids On The Block concert … so it looks like the 90s aren't totally over for Kimmy Gibbler.
19. Bug Hall
In 1994 Bug Hall came into our lives as Alfalfa and that is how we will always remember him.
20. Bug Hall today
Basically, he's been on every show one time. He's a perma-guest star and he's been on every thing from Castle and CSI to 90210 and Nikita. His IMDB says he's working on a few films, but nothing that we've heard of before.
21. Shawna Waldron
We kind of all wanted to be Icebox. Mainly because you just know that her and Junior totally hooked up.
22. Shawna Waldron today
She's not on Twitter, so she pretty much doesn't exist, but she has found her calling in horror films. She has starred in horror flicks including Stitch, Lizzie and Cyrus. Not sure what any of that means because scary movies are not our idea of fun.
24. Noah Hathaway today
First of all, Atreyu is 43 years old. Let that sink in. Hathaway is married and from 1994 to 2012 he wasn't acting at all. Now, according to his IMDB he's done some stuff we've never really heard of. Most importantly, Atreyu is on Twitter and Mark Hamill follows him, so he's doing better than we are.
25. Michael C. Maronna
Big Pete. Obviously. (From The Adventures of Pete and Pete!)
26. Michael C. Maronna today
Guys, Big Pete has been around Hollywood this entire time. He has been an on-set electrician for SO MANY MOVIES including Sex And The City, Factory Girl, Be Kind Rewind, The Smurfs, New York, I Love You and Men In Black 3. Basically, he's killin' it in the sound department.
27. Danny Tamberelli
If we have Big Pete, we have to add Little Pete.
28. Danny Tamberelli today
Little Pete, is not so little anymore. Today he is in a sketch comedy group called ManBoobs Comedy with two other guys. He voiced a character in the Grand Theft Auto video game a few years back, but here's the BEST news. Pete and Pete were hanging out on March 1. Meaning that they are still friends. Thank god.
29. Dante Basco
RUFIO! RUFIO! RUFIO! Everyone loves Hook. and Rufio.
30. Dante Basco today
Basco has been doing a ton of stuff since his days in Neverland, but none of them are high profile studio movies. He has done voice acting on Avatar: The Last Airbender, and even appeared in an episode of Entourage, but earlier this year he wrote a blog about how he enjoys making independent movies.
"[Independent films] don't always turn out to be the best things we've ever done, but beyond what comes out on the end, the whole adventure of making it, the friendships and bonds you make and all the stories you live through, you never know if you'll put yourself through it again… but sooner or later, someone comes to you with another great idea."
31. Daveigh Chase
Remember that creepy chick from The Ring who killed people through their TVs and scared the crap out of you a few years back?
32. Daveigh Chase today
Aside from voicing Lilo in Lilo And Stitch and a recurring role on HBO's Big Love, Daveigh Chase also spends her time just not being totally creepy anymore. Dude, she's so pretty!
Previous
Next
BEGIN