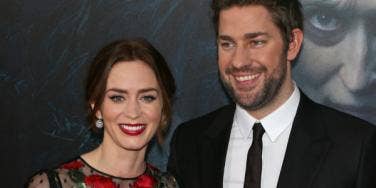 Can they BE any cuter?
Since tying the knot in July 2010, John Krasinski and Emily Blunt have been showing us how wonderful marriage can be. And we're as green as can be with envy! Seriously, they're just so. Cute.
The parents to one-year-old Hazel have managed to find the perfect balance of maintaining a certain amount of privacy while also gushing about each other every chance they get. Can they please write a marriage how-to that we can all follow and be happy forever? We'd really appreciate it, guys.
Here are all the times they've just killed at being the most perfect couple to exist in all of time. We're not worthy.
1. When he crashed her acceptance speech.
John was backstage at the Critics' Choice Awards when Emily won for Best Actress in an Action Movie. John ran out on stage to share and celebrate his wife in her special moment.
2. They know how to entertain.
Along with funny-man Stephen Merchant, John and Emily are also the brains behind celebrity lip sync battles. What started as an at-home party game for their friends is now a viral sensation on The Tonight Show With Jimmy Fallon and will be its own stand-alone TV show in April on Spike TV. So if anyone knows how we can be in the audience of a taping, hit us up.
3. They know how to have fun.
And they're major pranksters! In fact, they've had a wicked prank war with Jimmy Kimmel! During the holidays, things went to the next level with Jimmy gift-wrapping their HOUSE. Then, John and Emily got their revenge by gift-wrapping Jimmy's car and filling it with ornaments one night. The next night, they gift-wrapped it again and filled it with carolers. And for the final night when Emily was a guest on Jimmy Kimmel Live, they gift-wrapped his car, John dressed as Santa and drove Kimmel's car into a lamp post, another car and finally, a piano fell on top of it. Top that, Kimmel!
4. They only say the sweetest things about each other.
"Meeting John really changed my life," she said in 2013. "When I feel the support I have from him, I feel invincible. There's someone behind you on your good days, and someone in front of you on your bad days."
5. They make their marriage a priority.
"This is what I find difficult about talking about my marriage: It's hard to sum up something that's so vital and means everything to you in a sound bite. Do you know what I mean? All I can say is that it's an effing blast," Blunt said. "It's just great, and I'm so happy."
6. He gave her a dream proposal.
"It was very casual. I was nervous and the whole nine yards. She did cry after I cried and we cried and then everyone around us was crying," he said. "Then, I think people weren't really sure what was going on, but they were crying because we were crying. But it was great. At the end of the day she said 'yes' which is great."
7. They worked together to name their daughter.
"I find it very stressful naming a human being, " she told Ellen DeGeneres. "So we went through a few different ones and then John found it and we both really like old lady names."
8. They had the cutest ice bucket challenge videos.
Way to go, Em, for getting John good!
9. They share the right amount of their relationship with us.
By just sharing little tidbits of their love, mutual kindness and supportive relationship, these two are guaranteed to beat the Hollywood marriage curse!
Previous
Next
BEGIN