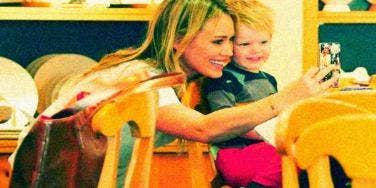 There's no denying these celeb kids who look JUST like their parents.
Good genes are good genes. DNA, and well, science don't care if your parents are famous actors, reality stars, or much-beloved singers. Even so, celeb kids inherit their parents' looks and sometimes their talent, and sometimes not. However, we are focusing on the celebrity kids who look exactly like their famous parents.
We're talking spitting images and doppelgangers, and the fact that staring at their kids must be like looking in the mirror for some celeb moms and dads.
We always interested in celebrity offspring, from the news that "OMG! They're expecting!" to "OMG! Have you seen her baby bump?!" to "OMG! Look at how big the little one is getting!" Once a celebrity baby or kid gets past the young, formative, and toddler years, we are dying to see how many of them have hit the genetic jackpot, in terms of looks and physical traits.
These celeb kids look exactly like their mom (Kylie Jenner) or dad (Jason Aldean's daughters), or even a mix of both — like Madonna's eldest daughter, the sassy Lourdes, or that cutie Suri Cruise, whose looks have been almost perfectly harvested from her now-divorced parents Tom Cruise and Katie Holmes, so much so that she looks 50 percent like dad and 50 percent like mom.
Scroll through and see which celeb kids are like twinsies with their parental unit(s).
Photo: WeHeartIt
1. Meryl Streep and Mamie Gummer
Mama Mia! star Meryl Streep's daughters all look a bit like their talented mother, who should just be annointed "The Grand Dame of American Cinema." But her daughter Mamie, who is far right in this photo, looks most like mama Meryl!
16. Jessica Alba and Honor Marie Warren
Actress and Honest Company founder Jessica Alba is a looker. Her firstborn daughter Honor Marie is following in mom's footsteps! What a pretty little girl who will grow up to be as stunning as mom. Bank on it. Check out how they are waltzing in stride, too.
17. Kris Jenner and Kim Kardashian
Kim's facial features, like dem cheekbones, are obviously a gift from Kris. And maybe a plastic surgeon.
18. Christina Milian and Violet Nash
Christina Milian's little angel Violet looks just like her, right? It's that room-brightening smile that they share. Dad is producer/singer The-Dream.
19. Billy Joel and Alexa Ray Joel
Christie Brinkley's daughter Sailor may look just like her, but the model's firstborn, Alexa Ray, is a mirror image of her dad, that "Piano Man" known as Billy Joel. ARJ got dad's big, round eyes and dark hair, and she has such an exotic, more interesting face, too. (Especially before her nosejob.)
20. Heather Locklear and Ava Sambora
Whoa! Heather Locklear's daughter Ava looks like her little sister! This had to be what the former Melrose Place star looked like in her teens. Ava's dad is former Bon Jovi rocker Richie Sambora, but she totally came out looking like her lovely, TV queen mom.
21. Madonna and Lourdes Leon
Madonna's daughter Lourdes Leon was her first child, and she got the lion's share of mom's DNA. While Lola, as she is known, has darker hair and skin, which she inherited from dad Carlos Leon, she is all Madonna, facially speaking. She's also got a fair amount of sass, and y'all know who that came from.
22. Bette Midler and Sophie von Haselberg
Bette Midler is a diva of many talents and of unique looks. Her daughter Sophie von Haselberg bears an uncanny resemblance to Bathhouse Bette, sharing Midler's unique, distinct features. There's no denying that these lovely ladies are mother and daughter.
23. Susan Sarandon and Eva Amurri
Did we just turn back time and current Susan Sarandon posed with former Susan Sarandon? Nope, that's just the actress' gorgeous daughter Eva Amurri, who resembles mom completely.
24. Gwyneth Paltrow and Blythe Danner
Blonde and beautiful. That's the way to describe actress Blythe Danner and her daughter Gwyneth Paltrow. They are not mirror images, but they are obviously mother and child.
25. Candace Cameron-Bure and Natasha Bure
DJ Tanner and her daughter are totally doppelgnagers. Candace Cameron Bure's daughter Natasha was blessed with the former Full House star's wealth of good genes.
26. Selena Gomez and Mandy Teefey
They're sisters, right? They have to be sisters! Nope. That's just Selena Gomez and her gorgeous mother Mandy Teefey. See where Sel got her glossy, dark locks and her full face shape? So beautiful — both of 'em.
15. Julianne Moore, Liv Freundlich and Cal Freundlich
Newly-minted Oscar winner Julianna Moore is one of the most beautiful gingers in Hollywood. Her son Cal and daughter Liv certainly got mom's bold, bright red hair and lovely porcelain skin.
14. Kourtney Kardashian and Mason Dash Disick
Love or hate Scott Disick, who is actually the funniest thing about any Kardashian TV show, Mason Dash Disick, the Lord's eldest child with longtime love Kourtney Kardashian, is a cutie. And he looks just like mommy, with a "dash" of dad thrown in.
13. Jada Pinkett Smith and Willow Smith
Jaden looks like dad, and Willow looks like mom, with a bit of dad very visible, as well.
2. David and Brooklyn Beckham
Brooklyn is the eldest of the Posh x Becks brood and boy, is he a looker! No wonder teen queen Chloe Grace Moretz fancied him. He has inherited his handsome dad's hair and facial features. Lookout, Vic! Your boy is gonna break some hearts.
3. Cindy Crawford and Kaia Gerber
Kaia Gerber may not have inherited her model mom's mole, but Cindy Crawford did pass along so many of her beautiful facial features to her little girl. The resemblance is uncanny.
4. Jessica Simpson, Maxwell Johnson and Ace Knute Johnson
The former reality star and sometime singer now sits atop of an apparel and accessories empire, so her kids, daughter Maxwell Drew and son Ace Knute, will certainly inherit quite a bit of loot, provided they don't pen any tell-alls about mom and her Chicken of the Sea fetish. That said, these two tow-headed tots are spittin' images.
5. Kanye West and North West
Sorry, Kim. But North West is a daddy's girl in more ways than one. The stylish toddler is just like her daddy and not just because she wears leather pants, too! Her face is a mirror image of his! There is no denying paternity here.
6. Kris Jenner and Kylie Jenner
All of Kris Jenner's hot daughters, be it Kardashians or Jenners, look like her. But none as much as her youngest offspring, Kylie Jenner. She totally got the Kardashian matriarch's cheekbones.
7. Jason Aldean and Keeley Williams
Bro country singer Jason Aldean has two daughters, Keeley and Kendyl, with his ex-wife Jessica. He is now married to Brittany Kerr (pictured), but do we really even need to point out which daughter is Keeley? She looks exactly like her pops, only with long blonde hair and a cute, girly face.
8. Elizabeth Hurley and Damian
Elizabeth Hurley's son Damian is quite a handsome young chap, isn't he? Well, that's to be expected, since while he got his father's blue eyes, he still looks so much like the actress. Also fun to note? Hurley named her son Damian, and she herself played the devil in Bedazzled. Cute!
9. Reese Witherspoon and Ava Phillippe
Seriously, Reese Witherspoon must feel like she is looking in a mirror whenever she peeps her eldest child, daughter Ava Phillippe. She is a mini-me version of Reese in every way, especially with her heart-shaped face.
10. Christie Brinkley and Sailor Cooke
Christie Brinkley was one of the most famous models of the '80s. Her daughter Sailor looks to follow in her stilettos, since she and mom are pretty much twinsies, thanks to their long blonde locks.
11. Katie Holmes and Suri Cruise
Suri Cruise looks exactly like her mother Katie Holmes and exactly like her father Tom Cruise. It's almost like she was harvested from a petri dish, since she has such distinct characteristics of both parents. But because of her long brown hair, it's Holmes for the, uh, win.
12. Will Smith and Jaden Smith
Jaden is a chip off the old block. He's gone into acting, just like his doppelganger dad.
27. Hilary Duff and Luca Comrie
OMG! We can't with him. Little Luca Cruz Comrie is adorbs and blond, just like his mom, the former Lizzie McGuire star Hilary Duff. He is so cute he could carry a Disney franchise, too!
Previous
Next
BEGIN