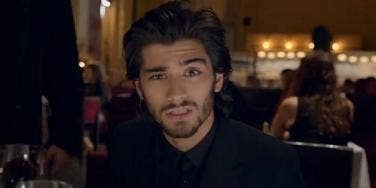 Harry Styles would never.
Yikes.
One week after One Direction heartthrob Zayn Malik dropped out of the British boy band's world tour, he quit One Direction completely. Malik, who performs a slew of solos for the band, released a statement through his publicist:
"After five years, I feel like it is now the right time for me to leave the band. I'd like to apologize to the fans if I've let anyone down, but I have to do what feels right in my hear," it read. "I am leaving because I want to be a normal 22-year-old who is able to relax and have some private time out of the spotlight."
The news comes just days after a photo surfaced of Malik getting close with a woman who is not his fiancee, Little Mix singer Perrie Edwards. Malik responded to the cheating rumors with an angry tweet, writing:
"I'm 22 years old ... I love a girl named Perrie Edwards. And there's a lot of jealous f*cks in this world. I'm sorry for what it looks like."
Uh, it looks like you're holding hands with another girl, bruh. That's pretty cut and dry, isn't it?
In any case, Malik's presence is going to be missed in the band. He's beautiful and has a set of powerhouse pipes that no other member can match (especially not Louis Tomlinson, yeesh).
Here are 10 of Malik's most fearsome flaws, and honestly, here's hoping he gets his act together ... and maybe takes a few cues from Harry Styles, who is pretty much perfect. You know, despite whatever Taylor Swift wants to tell you.
1. Zayn Malik has cheated on fiancee Perrie Edwards a bunch.
In one instance, a waitress who hooked up with Zayn Malik sold photos and her story to a tabloid. Most recently, Malik was spotted getting handsy with a blonde who was not his fiancee ... again. Perrie, girl, learn to love yourself. You don't need stateside relevance that badly.
2. Zayn Malik is often targeted with bad behavior.
Zayn Malik has fallen victim numerous times to racist and Islamophobic attacks on social media, because, well, people are insane and stupid. No wonder the dude has a chip on his shoulder.
3. Zayn Malik is a master of disguise.
Zayn Malik looks so hot as both a man and a woman, it's no wonder he's got a bit of an ego ... and no wonder he thinks he'll never get caught cheating.
4. Zayn Malik uses his cuteness to try negating bad behavior.
Because how can you stay mad at a dude with the voice of an angel who's cuddling with a puppy?
5. Zayn Malik may be trying to buy Perrie Edwards' forgiveness.
Zayn Malik is rumored to be constantly bedding groupies behind Perrie Edwards' back, but then he goes and buys her mom a house. (The same mom who's posted some horrifically racist and Islamophobic stuff on her own Facebook page, which may be another reason why Malik is working so hard to get in their good graces.) A better way to get a girl's family to like you is to not bang other women. Just, you know, as a rule.
6. Zayn Malik is uncomfortable with fame.
Out of all the One Direction members, Zayn Malik has had the most trouble adjusting to the pressures and pitfalls of fame, which may explain (at least in part) why he's been acting out constantly.
7. OMGZ! Zayn Malik smokes weed!
A scandalous video surfaced of Zayn Malik smoking a joint. If he weren't a tween idol in One Direction, no one would f*cking care ... but he is.
8. He had no issues with Louis Tomlinson using the N-word.
In the same video in which Zayn Malik smoked a doobie, bandmate Louis Tomlinson dropped a few n-bombs, which Malik was apparently totally fine with (and even a little amused by).
9. He's been expelled from school for fighting before.
10. He didn't think bringing a BB gun to school was a big deal.
He told Sugar magazine, "I once got in trouble for having a BB gun at school. I didn't shoot anyone, I just had it. It wasn't even mine but I got done for having an imitation firearm." Uh, yeah bro. You should've gotten in trouble.
Previous
Next
BEGIN