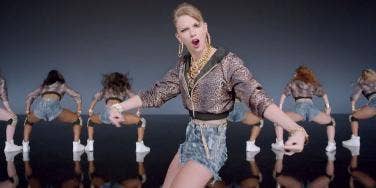 These celebs all insured their most enviable assets for BIG bucks.
In case you didn't feel worthless already, know that celebrities have individual body parts that are worth more money than you'll ever make in your life.
Now that we've ripped off that Band-Aid, it's actually pretty intriguing once you find out which stars have insured which coveted parts — and for how much. Taylor Swift, the lithe, leggy dream that she is, recently was reported to have had her legs insured for $40 million because of the potential profits she'd lose if they were out of commission. (Note that her voice isn't insured, because, well, let's be honest: It doesn't seem like too many people are paying attention to it.)
Other stars have insured their voices, as well as their derrieres, their décolletage and, uh, their chest hair. (I wish I made that up.) Check out the most ridiculously pricey insured body parts below, and then start taking better care of your own organs. They may be worth serious dough someday.
1. Taylor Swift
Taylor Swift reportedly insured her legs for $40 million ... which her cat, Meredith, may have to pay her out on after giving her some hella nasty scratches.
2. Tom Jones
Tom Jones, bless his heart, insured his ... chest hair. For $7 million. That's unusual. (And you will deal with that brilliant wit.)
3. Rod Stewart
Rod Stewart's insurance is a practical measure: His voice is his moneymaker, so he has a $6 million policy on it.
4. Dolly Parton
Dolly Parton's buxom bosom is worth $600,000 — $300K per boob.
5. Tina Turner
Tina Turner used to be insecure about her gams, but now they're worth $3.2 million.
6. Daniel Craig
Because he does his own stunts as Bond, James Bond, Daniel Craig took out an insurance policy on his entire buff bod. The cost? Oh, only a little over $9 million.
7. Bruce Springsteen
Bruce Springsteen's voice is insured for $5.7 million, but let's be real: He's the boss. Those pipes are priceless.
8. Keith Richards
Keith Richards insured his middle finger for $1.6 million. If that's not an eff you to the rest of us, I don't know what is.
9. Troy Polamalu
Reuters reports that Pittsburgh Steeler Troy Polamalu has a $1 million insurance policy on his signature ringlets, thanks to an endorsement deal with Head & Shoulders shampoo.
10. David Lee Roth
Because he's just a gigolo, David Lee Roth reportedly insured his sperm in case he got any groupies pregnant. The cost? Over $9 million, thought to cover and/or prevent any paternity cases. Bruh, aren't condoms a lot cheaper?
11. David Beckham
David Beckham insured his legs — which were the tools with which he took home all that bacon before he started modeling — for $70 million, to cover any potential career-ending injuries.
12. Heidi Klum
Heidi Klum confessed to Extra that she has her legs insured — and that one is actually more valuable than the other. "Basically, I was in London, and I had to go to this place where they check out your leg," she says. "They would look at them and I had one scar here from when I fell on a glass, so this [left leg] isn't as pricey and this [right] one."
13. America Ferrera
America Ferrera's toothy grin was insured for $1 million for her deal with Aquafresh toothpaste.
14. Rihanna
When Rihanna was named the new face (and gams) of Gillette, she insured her stems for $1 million.
15. Julia Roberts
Julia Roberts' trademark smile is reportedly worth $30 million.
17. Jennifer Lopez
Jennifer Lopez insured that famous booty for $27 million.
18. Madonna
Madonna is rumored to have insured her breasts for $2 million.
19. Jamie Lee Curtis
Jamie Lee Curtis repped L'eggs hosiery, so she got her legs insured for $2.8 million. Looks like all that running from Michael Myers paid off.
20. Mariah Carey
When Mariah Carey does anything, she does it big, and her insurance policies are no different: The Elusive Chanteuse insured her legs for $1 billion (with a B!) when she endorsed Gillette. All we want for Christmas is her bank account.
Previous
Next
BEGIN