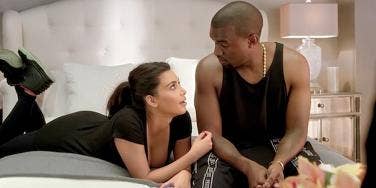 Kanye West loves Kim Kardashian for one reason and one reason only.
Kanye West was so proud of his wife, Kim Kardashian, that he took to Twitter today to fill everyone's feeds with nude photos of her. Of course, Kim Kardashian naked on the Internet is nothing new. It's sort of what she does. But it feels extra skeevy for K.K. to be sold out by her own husband, the father of her kid, doesn't it?
It didn't take us long to find the most crazy love quotes he's said about her.
Don't get us wrong: It's great that he thinks she's gorgeous. And she is, when her fillers settle into place. But by Kanye West's own admission, that's really all there is to Kim Kardashian: A shell of a person, an appearance, a visage, with little to nothing else under the surface. And that's pretty sad for her, because, well, she's going to age someday. Then what? It's also pretty sad for North West, because, well, that's a really sad example to set for her: That literally all that matters is what you look like naked. C'mon, Kanye. Do better and put less of these funny quotes out into the world.
If you're searching for the best quotes and memes to share with the people you love (or just want to feel inspired yourself) ... look no further! From the sweetest love quotes, inspirational sayings, and hilarious relationship truths, we've got you covered.
1. In a totally specific love song for Kim Kardashian:
"Stop everything you're doing now because baby, you're awesome."
9. On what Kim Kardashian has to offer:
"In my industry, beauty is a talent. You know, 'What is she talented at?' She's talented at being beautiful."
8. On what Kim wanted in a man:
"There's times when I wasn't with [Kim], I wanted to be with her so bad I thought about taking up sports."
7. On Kim Kardashian's global influence:
"There's no way Kim Kardashian shouldn't be on the cover of Vogue. She's like the most intriguing woman right now. She's got Barbara Walters calling her like every day ... and collectively we're the most influential with clothing. No one is looking at what [President] Obama is wearing. Michelle Obama cannot Instagram a pic like what my girl Instagrammed the other day."
6. On turning her into his Barbie doll and making her over:
"She just needed to be given some platforms of information to work from. One beautiful thing is that as she discovers it, the world discovers it. For her to take that risk in front of the world, it just shows you how much she loves me."
5. On how we all just don't get it:
"People are so, so dated and not modern. It's like, there's no way Kim Kardashian shouldn't have a star on the Walk of Fame."
4. On Barack Obama's criticisms of Kim Kardashian:
"He shouldn't mention my baby mama name, 'cause we both from Chicago."
3. On love at first sight:
"I remember seeing pictures of her and Paris Hilton in Australia, and I came to Don C., and I was like, 'Man, have you ever seen Kim Kardishawn? What's up with Kim Kardishawn?'"
2. On another love song about Kim Kardashian:
"I wrote 'Perfect B*tch' about Kim."
10. On Kim Kardashian's legacy:
"Kate Upton ain't Marilyn Monroe. Kim is Marilyn Monroe, you know that. She was controversial. She is controversial."
Previous
Next
BEGIN