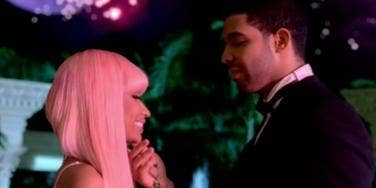 We could cut the sexual tension with a knife between these stars.
As a star, when you're acting and singing so closely with certain celebs (and, you know, getting paid to make out and sometimes get naked with them), there are bound to be a few that you feel attracted to. Hey, we're not judging — being beautiful and surrounded by other beautiful people is pretty much par for the course just to get famous in the first place.
That said, when that sexual tension builds, the public will notice ... like between Nicki Minaj and Drake, for instance, when they acted out marriage in "Moment 4 Life." We totally know those two wanted that marriage to be legit! (Or at least Drake did, because, well, it's Drake.)
Here are 15 pairs of celebs that we can tell are super into each other and who need to get together sometime in the near future ... as long as there are no marriages ruined in the process. We aren't homewreckers!
1. Nicki Minaj and Drake
I mean, in "Moment 4 Life," they acted out getting married. And we can't forget the time Drake told MTV that he fell in love with Nicki at first sight. Come on guys, if you haven't gotten together already, just do it.
3. Shailene Woodley and Ansel Elgort
These young beauties had such chemistry in The Fault In Our Stars and Divergent. Come on, can't you two just get together already? For the young adults in us?
5. Margot Robbie and Will Smith
Focus features these two gorg celebs. It's a pairing we wouldn't have thought of before, but now we're kicking ourselves for not realizing it, because the sexual tension between these two is palpable. Unfff.
8. Emma Stone and Ryan Gosling
Three words: Crazy, Stupid Love. Their onscreen sexual tension was unbelievably amazing. That kiss totally swept us off their feet.
12. Emma Watson and Harry Styles
When Harry Styles presented Emma Watson with a fashion award back in December, the internet totally freaked out at the prospect of these two hooking up. And we understand why: Hemma would be a gorgeous sight.
4. Leonardo DiCaprio and Kate Winslet
Okay, so this one is totally obvious: we knew Rose would never let go of Jack. Previously, we covered their relationship, and they both said it's just very, very close friendship ... but we totally see something more there. Wink, wink.
14. Tony Goldwyn and Kerry Washington
These Scandal stars have so many sparks flying onscreen, we would not be shocked at all if they were flying off-screen, too. Swoon.
13. Martin Freeman and Benedict Cumberbatch
These two are so perfect, and their chemistry is so wonderful. Just hook up already for us Sherlock fans ... you'd probably break the internet.
11. Ariana Grande and Justin Bieber
Ariana tweeted this selfie back in 2013, saying, "You're crazy and nonna says thank you, she loves you." This pic has SO much sexual tension, and we can totally imagine these two together.
10. Taylor Swift and Ed Sheeran
Did you know that the bond between these two is so strong that Ed's girlfriend doesn't want him to see her anymore? We can totally see sparks flying between the two ... and their baby would have the best voice EVER.
9. Jennifer Lawrence and Josh Hutcherson
Okay, so these two have the best offscreen relationship ever, and they are so darn cute. Plus, they just seem to light up around each other. Come on, you crazy kids!
2. Taylor Schilling and Laura Prepon
Man, just watching these two together on Orange Is The New Black got us a bit hot and bothered. We can't wait to see this sexy duo once again this June.
7. Zooey Deschanel and Joseph Gordon Levitt
We know these 500 Days Of Summer co-stars are both in happy relationships (Deschanel is preggers and engaged, while Gordon-Levitt recently got hitched), but the chemistry between them makes us swoon. And can you imagine how gorgeous their babies would be?
6. Ben Affleck and Matt Damon
We know they're BFFs for life, and maybe this is reaching a bit, but can't you just kiss once, for us ladies who are in love with you both?
15. Kanye West and Kanye West
Because we can't forget about the ULTIMATE sexual tension between these two lovers.
Previous
Next
BEGIN