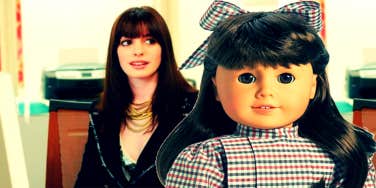 Because American Girl Dolls were everything.
Everyone had an American Girl Doll growing up, and while nowadays girls head to the American Girl Doll store to get dolls that pretty much look identical to themselves, we had six of them. To this day if you grew up in the 90s, you can name all six of the original American Girl Dolls and depending on your favorite girl, you also know their complete backstory because you ready their "meet" book only 100 times.
Personally, it was all about Molly for me because she had all these amazing ideas that always failed horribly, kind of like me as a child. Regardless of whether you were a Samantha (as most people wanted to be), Kirsten, Addy, Felicity, Molly or Josefina, you pretty much read all the books anyways because learning about history in school was boring, but reading about from these girls point of view was pretty much the most exciting part of elementary school. That being said, I am rooting for a remake series with all of our favorite dolls, but as grown ups. Of course that being said, it's also important to find famous faces who match our six American Girls. Yes, that's right, we have found the American Girl Doll doppelgängers. You're welcome.
1. Samantha
A.K.A. the one everyone wanted to be/have.
Anne Hathaway
Okay, so Anne Hathaway is pretty hated by most people, but they look pretty similar right?
2. Kirsten
Unless you were blonde, then you wanted to have Kirsten.
Kristen Bell
If there is a Kirsten movie, Kristen Bell should already be cast.
3. Molly
Glasses never stopped Molly from having the coolest personality.
Zooey Deschanel
Dead. On. You're welcome.
4. Addy
Addy Walker was the most badass American Girl Doll by far.
Lupita Nyong'o
Which means Addy needs a badass doppelgänger.
5. Felicity
If you rode horses, or were in anyway a tomboy … you had a Felicity doll.
Amy Adams
Amy would kill it as Felicity.
6. Josefina
Josefina was the last one to join the original six, and probably the nicest one.
Selena Gomez
They look pretty similar, but we bet Josefina wouldn't keep Justin Bieber around.
Previous
Next
BEGIN