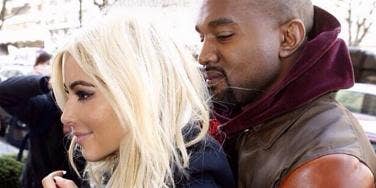 These stars put rabbits to shame ... or so they say.
What do you do when you have to sound interesting but don't have much else going on in your life? That's right: Brag about your sex life to strangers!
To be fair, most of the real world doesn't do that — but Hollywood thrives on sharing (and oversharing) salacious details, often to the point of absurdity, and especially if the star is clinging to relevance.
Kim Kardashian, who tries to distance herself from the infamous sex video that made her a household name, recently whined that she's tired from having so much sex with Kanye West. Miley Cyrus loves to pretend she's edgy, creating a hypersexual persona that in reality is probably too desperate to get laid often.
That's not to say that every star on this particular list is thirsty for attention and clinging desperately to the final threads of fame. But it's a pretty safe bet that you won't see, say, Matt Damon, Brad Pitt nor Cate Blanchett bragging about how often they bang, because, well, they don't have to. These celebs swear they're having a ton of sex, which just makes us side-eye most of them ... there's that whole "doth protest too much" thing.
1 + 2. Kim Kardashian and Kanye West
In a preview for the upcoming season of Keeping Up With The Kardashians, Kim Kardashian whines, "I've been having sex 500 times a day!" That makes it official: Kanye West's transformation of Kim Kardashian from brunette sex video star to Real Doll is just about complete.
3. Rod Stewart
Rod Stewart told The Daily Mail, "There was a period in my life — and it wasn't a prolonged one, maybe just a few years — where it was a bit 'one in, one out.' The girls involved would never have known that, obviously."
He adds, "There were a few hairy moments in Cannes where my PA was taking one girl to the airport and dropping her off at departures, then haring round to arrivals to pick up the next one."
4. Miranda Kerr
Miranda Kerr quickly tumbled from Victoria's Secret Angel to thirstbucket following her split from Orlando Bloom. Lately she's constantly boasting about her sex life (which has included the likes of Justin Bieber and now a few ugly billionaires). "The more sex I have, the more defined my arms and stomach get," she told GQ, adding, "I always ask for a critique on my performance. I always want to better myself in every way ... I've had an orgasm in the air before. Alone. And together."
5 + 6. Mila Kunis and Ashton Kutcher
Now that Ashton Kutcher doesn't have a TV show anymore, he spends a lot of time bragging about having a lot of sex with Mila Kunis, even dedicated portions of a tech conference speech to their exploits. "Last week, I was walking with Mila ... Kunis, who's my fiancee," he bragged. "I get to have sex with her. It's amazing!" Someone get this guy a cookie. Not just for the validation he so desperately needs, but also to shut him up for a few minutes.
7. Michael Douglas
Remember Michael Douglas' glorious revelation that he may have gotten throat cancer from too much oral sex? He's never exactly been quiet about his romantic life, telling AARP in 2010, "But God bless [Catherine Zeta Jones] that she likes older guys. And some wonderful enhancements have happened in the last few years — Viagra, Cialis — that can make us all feel younger."
8. Mama June
Mama June has a lot of sex. Unfortunately, it's usually with pedophiles.
9 + 10. Will Smith and Jada Pinkett Smith
If you ever have Jada Pinkett Smith and Will Smith at one of your parties, you may want to hire a bathroom attendant to keep them in line. The Gotham siren told Redbook, "Be sneaky … your girlfriend's house at a party. The bathroom. A bedroom. Think of places outside that are comfortable to have sex. Does he have access to his office? Have a fantasy date. Be his secretary!"
11. Lindsay Lohan
Remember that list of men with whom Lindsay Lohan had sex? She's not getting any younger (despite her filler attempts) and that's not getting any shorter.
12. Jack Nicholson
Jack Nicholson doesn't deny his status as a legendary lothario. "I am an extreme person," he told The Sun. "If someone says, 'Jack, you are a womanizer,' I don't deny it. But the life of a gigolo always ends badly. That is one of the reasons I feel uncomfortable about all that 'sex legend' stuff ... I no longer have the energy to both work and fool around. So the last few movies I've done, I have hardly left the hotel at nights."
13. Charlie Sheen
Charlie Sheen has confessed to spending more than $53,000 on sex workers, sleeping with over 5,000 women (where does he find the time?) and frequently dates porn stars — and was briefly engaged to one, too.
14. Robin Wright
Since ditching the abusive monster that is Sean Penn for good, Robin Wright tells Vanity Fair, "I've never been happier in my life than I am today. Perhaps it's not ladylike [to say], but I've never laughed more, read more, or come more than with Ben [Foster]. He inspires me to be the best of myself."
15 + 16. Olivia Wilde and Jason Sudeikis
Olivia Wilde and Jason Sudeikis run their mouths so much about their sex life that it's hard to tell where they find the time to actually have one. Sudeikis told Elle that Wilde helped him drop pounds, boasting, "The truth is, I'm not getting up an hour earlier and walking on a treadmill. I have the greatest workout partner in the world. And you don't need a gym membership for that kind of workout." Wilde herself bragged about her life with Sudeikis, "We have sex like Kenyan marathon runners." We're sure those athletes appreciate that comparison.
Previous
Next
BEGIN