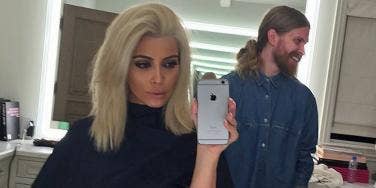 Blondes don't always have more fun.
Idina Menzel let her signature brunette locks go. The Broadway-turned-Frozen star chopped and bleached her hair into a blonde bob, showing off the new 'do on Instagram, and, well ... not everyone is meant to look like Queen Elsa.
The news comes just weeks after Kim Kardashian went blonde, and, that was pretty disastrous, too. When your only trademark aside from the size of your pooper is dark hair, going platinum is going to be a tough sell.
That said, everyone says blondes have more fun, and based on the hair color fails you're about to witness, that's pretty effin' debatable. Not every person was made to have blonde hair. That's why a lot of us, you know, weren't born with blonde hair. For every Marilyn Monroe, there's a Kim Kardashian: Just as beautiful, just as buxom, but much, much better suited to a brunette mane. See which stars tried going blonde ... and just looked, well, awful.
14. Idina Menzel
When you need this many filters to show off a brand new dye job, it ain't a good sign.
13. Anne Hathaway
Anne Hathaway wanted her hair to match her Oscar. The color is probably much more flattering on her mantle.
12. Brad Pitt
Brad Pitt, like Rihanna, looks good no matter what. He just looked, well, less good with this hair color.
11. Camilla Belle
I don't even know what Camilla Belle is famous for at this point, but I'm pretty sure dark hair was part of her appeal. Now that she doesn't have that, she may have to learn to act or go back to dating a Jonas Brother or something.
10. Chris Brown
To be fair to Chris Brown, he's made plenty of decisions worse than this one.
9. Kim Kardashian
If rumors about Kim Kardashian's penchant for water sports are true, it looks like Kanye West had some asparagus last week.
8. Kendall Jenner
Kendall Jenner gave blonde a try, too. She had more success than her sisters did, but she still looks best with her trademark chocolate tresses.
7. Kylie Jenner
Kim Kardashian is gradually morphing into little sis Kylie Jenner. And Kylie Jenner is gradually morphing into a Bratz doll from Hell.
6. Lena Dunham
Lena Dunham's platinum 'do isn't the best for her skintone, but it was a transitional shade—she later dyed her hair bright green, which actually looked pretty awesome on her.
5. Rihanna
Let's preface this with the fact that Rihanna is one of the most beautiful creatures walking this planet. That said, she doesn't look bad with blonde hair, because she's incapable of looking bad ever. But blonde wasn't her most flattering shade (and she's had plenty to pick from).
4. Rita Ora
Rita Ora is stunning, but she insists on washing herself out with this bleach blonde mess, which is only made worse by her dark eyebrows. C'mon, Rita, even your idol Gwen Stefani bleaches her brows to match now.
3. Rumer Willis
Rumer Willis went blonde for The House Bunny, and, uh, it looked like this.
2. Vanessa Hudgens
Vanessa Hudgens had to bleach her hair to look like a trashy co-ed for Spring Breakers. It worked.
1. Justin Bieber
Justin Bieber really wants us to like him now, so he ditched this rotting lemon 'do pretty quickly.
Previous
Next
BEGIN