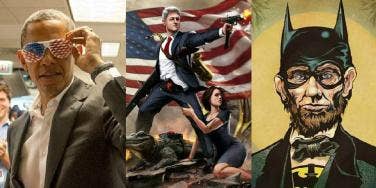 America the beautiful indeed.
There are few things in this world that are sexier than power. When you have more power than anyone else on the planet, you're automatically a little hotter than you were before, even if you look human adjacent, homeless or inbred. It doesn't matter. You're probably well educated or at least remotely intelligent (like Harry Truman) or at the very least have parents who can buy you into Ivy Leagues (like George W. Bush). You're probably charismatic, charming and not scared of kissing babies and shaking hands (so long as you don't get those confused and start shaking babies).
As a result, anyone who's elected President of the United States — leader of the goddamn free world — is automatically sexy.
That said, there are some presidents who are sexier than others. By a long shot. Seriously, who's ever dreamed of boning Millard Fillmore? Exactly. Here, the 15 hottest presidents the world has ever seen. America the beautiful indeed.
1. William Howard Taft
Firstly, that mustache and that smile—how adorable is this man? He looks like just got tickled. Secondly and most importantly, he once got stuck in a bath tub. You know what that means: #surfboard.
2. Barack Obama
Sure, the NDAA is scary as Hell and the NSA probably secretly watched my screen while I typed this, but damn if this man can't sing Al Green like a champ. Also, free birth control is pretty nice.
3. Ronald Reagan
His economics may have devastated the country for decades to come, but Ronald Reagan was just a jellybean-loving movie star. He wasn't all bad, right?
4. Abraham Lincoln
Fringe historians think Abraham Lincoln may have been gay or bisexual. Also, remember how he fought for federal over states' rights and we all learned that it was to end slavery? That was pretty neat too.
6. Andrew Jackson
Into bad boys? Andrew Jackson got shot in the chest in a duel and still managed to shoot and kill the other guy. With a bullet in his own chest. Then he became President of the United States. With a bullet in his chest. Find me someone more badass. I dare you.
7. George W. Bush
If George W. Bush could focus on reading My Pet Goat during the 9/11 attacks, just imagine what else that amazing concentration could accomplish. You know, like wars without inflation (including the longest one in American history) and maybe even stuff in bed.
8. George Washington
Everyone remembers their first.
9. James K. Polk
His sweet 'do is almost canceled out by the fact that he gave us Texas. Do we really need Texas? They don't even want to be here.
10. John F. Kennedy
Though most of his descendants look like the result of inbreeding, John F. Kennedy was so hot even Marilyn Monroe couldn't resist him.
11. Grover Cleveland
If a man can be named Grover and get elected twice, nonconsecutively, he has to be doing something right. I'm not sure what, but there has to be something.
12. Ulysses S. Grant
Everyone loves decorated war heroes! Especially in times of high corruption, like the Gilded Age.
13. Bill Clinton
What's that? His approval ratings still skyrocketed even after being impeached? Of course they did. He's Bill f*cking Clinton.
14. Vladimir Putin
Sure, he's not American and pretty much hates all the freedoms that we stand for and love, but he rides horses shirtless and once shot a whale with a goddamn crossbow. Work. Plus, who knows what he'd do if he didn't make this list?
15. Theodore Roosevelt
"Walk softly and carry a big stick." We see what he did there.
Previous
Next
BEGIN