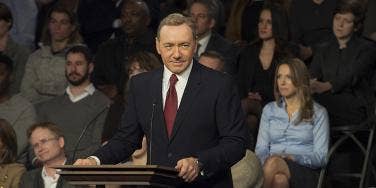 You literally haven't moved off the couch since 'House of Cards' season 3 became available.
I had never seen House Of Cards, until this weekend. Starting Saturday morning I started with season 1 and pretty much didn't move off the couch the rest of the weekend. While some of you may judge me for that, I called it research. See, I pitched this article before ever seeing the show. Basically, I spent two solid days researching this article which takes a lot of commitment.
The result? I love Frank and Claire Underwood. A lot. Also, judge me for this, but I kind of loved Corey Stoll (Peter Russo) too. Now while I only made it through season 2 (I mean, come on, I'm not an animal and there are definitely not enough hours in the weekend to make it through three whole seasons), but I could not stop watching. It only took a few episodes before I became a House Of Cards addict and now I'm here, watching it until I can't even keep my eyes open. Thanks a lot Frank Underwood.
Just a reminder, House Of Cards season 3 was released on Friday and this weekend was a lazy weekend for most of the world, which is why you shouldn't feel bad for not hitting the bars. Here are 12 signs you've been watching way too much House Of Cards this weekend (even though, I'm definitely not judging you because I did the exact same thing):
1. There's a butt imprint on the couch.
You've been on the couch for so long this weekend that there is an actual imprint from your butt. It's almost comforting.
2. What bathroom break?
You literally cannot remember the last time you used the bathroom because you've been watching House of Cards for so long.
3. You're offended by non-fans.
You don't understand people who didn't marathon House of Cards this weekend.
4. You thought about food after every episode…
…but ultimately haven't eaten because every time you thought about getting food you realized it would require way more effort than you were willing to give.
5. Auto-play will be the death of you.
It also doesn't help that Netflix doesn't even force you to press play for the next episode.
6. You have a fake camera.
Sometimes you pretend that you're talking to a camera like Frank does …You don't even care that it's kind of weird.
7. ...To go along with your "Frankisms."
You wish you were cool enough to use Frankisms.
8. You question all politicians.
9. Claire Underwood is everything.
She is your spirit animal though. You just want to be as badass as she is.
10. Frank and Claire's relationship is ideal.
By the end of the series you start to believe that Frank and Claire's relationship is super normal … it's not.
11. You cried after the final episode.
Knowing that you have to wait an entire year for season 4 is basically unbearable.
12. Today at work...
... You may have lied about your weekend as a social pariah.
Previous
Next
BEGIN