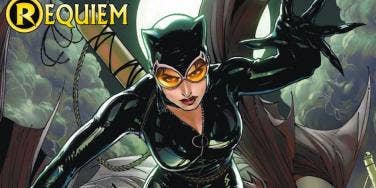 Catwoman came out as bisexual, but she's far from the first LGBTQ superhero.
If there's one thing DC Comics likes to do, it's shake things up. Recently, they just revealed that Catwoman, one of their most famous characters, is bisexual. It was revealed in issue 39 of her current series (Vol 4).
While it's not the most shocking reveal (it's been heavily hinted at for a long time), it's still a pretty big deal. Catwoman is a major character, so having her come out as bisexual is a big step. She's not the first character to belong to the LBGT community, but she's probably the most popular. Having her come out shows DC's commitment to having a truly diverse line up of characters. While people may not realize it, comics have been pretty ahead of the game in this area. There are plenty of LBGT characters from both major companies, DC and Marvel. A lot of them are great characters who have been part of some big stories over the years. Here's are 10 comic characters who belong to the LBGT community in addition to saving the world on a regular basis.
1. Victoria Hand
While she doesn't have any super powers, technically, Victoria Hand definitely counts as a hero. She was a member of SHIELD and worked closely with it's leaders, including Captain America, who I might go gay for if he were a real person because he's that awesome.
2. Shatterstar
Shatterstar grew up in Mojoworld, a reality ruled by a megalomaniacal reality TV exec who forces contestants into dangerous situations for entertainment. He escaped, joined X-Force, and eventually formed a romantic relationship with the mutant Rictor.
3. Renee Montoya
Renee Montoya was a prominent member of the Gotham City Police Force, and was eventually outed as a lesbian. She now fights crime and corruption under the identity of The Question.
4. Phyla-Vell
Phyla-Vell is a cosmic super hero from the Marvel Universe. She's held several super hero titles, most prominently being Quasar and Captain Marvel. She's helped save the Galaxy on several occassions, and was a founding member of Star-Lord's Guardians of the Galaxy.
5. Northstar
Northstar first appeared as a member of Alpha Flight, a Canadian super team. Being a mutant, he's jumped around the different X-Men teams. He married his partner in 2012, in one of the first gay weddings in comic book history.
6. Moondragon
The daughter of Drax, Moondragon has been both an Avenger and a Guardian of the Galaxy. She helped save the universe during both Annihilation Wars, and has come back from the dead a couple of times too. She and Phyla-Vell are partners ... when they're both alive at the same time.
7. Hulkling and Wiccan
Hulking and Wiccan are members of the Young Avengers, and they share a very close relationship. They've saved each other and the world many times.
8. Catwoman
Catwoman has had a long, complicated relationship with Batman. While her sexuality was always hinted at, it wasn't until 2015 that her being bisexual was confirmed. Maybe now she'll be able to enter a better relationship than what she's got going on with Bruce Wayne.
9. Batwoman
The modern version of Batwoman, Kate Kane, is a modern take on the older version from the 1950s. One of the updated aspects is her relationship with Maggie Sawyer, a member of GCPD. She's even proposed marriage to her partner, but as of yet, DC has controversially not allowed the characters to marry.
10. Green Lantern Alan Scott
When DC updated their contituity a few years ago, they brought back the classic Green Lantern, Alan Scott. In the modern take, Scott was living happily as a gay man and fighting crime.
Previous
Next
BEGIN