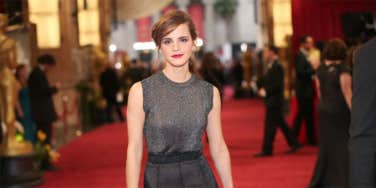 She may have shot down Prince Harry rumors, but she should consider dating him for real.
Last week the internet exploded when Women's Day Australia reported that Harry Potter star Emma Watson has been going on secret dates with Prince Harry. Apparently after her split from Matthew Janney, Prince Harry sent over an email saying he wanted to "get to know her."
The pair along with 12 friends all went out together. "Harry didn't want her to feel like she was put on the spot," a source told the site. "A party also shows he's fun and not stuffy."
Needless to say the entire world was buzzing over the news and so excited for the potential couple, when Emma Watson went on Twitter to crush everyone's dreams. "World," she wrote with a heart, "Remember that little talk we had about not believing everything written in the media?!"
She added another message saying, "Also ... marrying a Prince not a prerequisite for being a Princess," adding a link to the movie A Little Princess.
Despite her denying the rumors we still think Emma Watson and Prince Harry would be pretty freaking adorable together. Move over Kate Middleton, here are 12 reasons Emma Watson would make the perfect royal princess:
1. Emma Watson is a feminist!
Emma Watson is the ultimate equal rights activist. She would get s*it done for women all over the world.
2. Emma Watson was Hermione Granger.
If Hermione Granger was real, she would want Emma to date a red-headed prince like Ron Weasley.
3. Herminone + Harry ...
It's about damn time Hermione ended up with a Harry.
4. Kate Middleton and Emma Watson should be BFFs.
Would become a bigger power couple than Jay Z and Beyoncé.
5. Emma Watson's in Beauty and The Beast!
She's already preparing to play a Princess….
6. She's intelligent!
She would never just sit back and let Harry run the show. Let's be honest, she would become a voice in all issues.
7. Her fashion is regal already.
We would really just like to see what she wears everyday as Princess Emma.
8. She drinks!
She openly admitted that she got drunk on a late-night show, because everyone drinks, especially her fake beau Prince Harry.
9. She's hilarious.
It's about time someone in royalty was actually crack a joke every once and a while.
10. She's perfect.
Because she says how we all feel in this simple quote: "I'm just a really awkward sexy person."
11. She's classy as f*ck.
Back in 2013: "Who here actually thinks I would do Fifty Shades Of Grey as a movie? Like really. For real. In real life."
12. She would be a warrior princess!
"I feel like young girls are told that they have to be a princess and fragile. It's bulls*it. I identify much more with being a warrior—a fighter. If I was going to be a princess, I'd be a warrior princess. Definitely."
Previous
Next
BEGIN