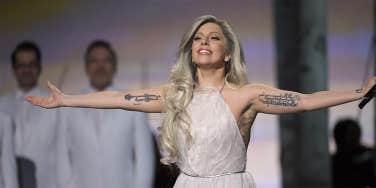 The Oscars were annoyingly perfect this year.
The Oscars started in a rough spot. Ryan Seacrest learned what a flogger is, Melanie Griffith and Dakota Johnson acted like a mom and daughter on the red carpet, and as much as we love everyone involved, an opening song is never as great as it seems like it would be.
However, J.K. Simmons won for best supporting actor and from then on out, the show was quite literally perfect. Everyone has the best speeches and ABC finally gave up on trying to limit everyone because they deserve to thank people as long as they damn well please. Just to recap before we get into the best moments of the night: Neil Patrick Harris hosted the Oscars on Sunday night and it was by far the longest award show to ever happen to the world, but it's okay because people who love movies probably loved every second of the show like we did. NPH was no Ellen, but he held his own.
As for the winners, Grand Budapest Hotel took home all the awards that had to do with production, Whiplash won a few awards in the technical categories, but the real winner of the night was Birdman who went home with the best picture of the year award. After the show everyone went to the Vanity Fair party and drank a lot. The end. Here are the top 15 moments for the 87th Academy Awards:
1. Lady Gaga
Seriously, best part of the night. Lady Gaga singing The Sound of Music was everything. Plus, JULIE ANDREWS. Everyone else can go home.
2. Patricia Arquette
Standing up for women everywhere. #equalrights #equalpay
3. Meryl Streep
The only thing better than Patricia Arquette's amazing feminist speech was Meryl cheering her on.
4. Neil Patrick Harris' jokes
The crowd didn't quite get them, but there were some pretty strong laughs on our end.
5. The guy who thanked his dog
No, really, one of the Birdman writers thanked his dog Larry and it was by far the best shoutout of the night.
6. "Glory"
There are no words for the emotions in the room while John Legend and Common sang "Glory." Hands down one of the most moving performances at the Oscars. David Oyelowo and Chris Pine crying were proof of that.
7. Graham Moore
After winning Best Adapted Screenplay Graham Moore thanked Oprah, obviously and then gave an amazing speech telling teens to "stay weird."
9. J.K. Simmons
"Call your mom, call your dad. If you're lucky enough to have a parent or two alive on this planet, call 'em. Don't text. Don't email. Call them on the phone. Tell 'em you love 'em, and thank them, and listen to them for as long as they want to talk to you. Thank you. Thank you, Mom and Dad." Best advice ever.
10. Eddie Redmayne
For being so effing adorable when he won.
11. John Travolta and Idina Menzel
They've made up in the cutest possible way and the best part is he told her to read the winner's names.
12. Jennifer Aniston and Emma Stone
Bear hugging on the carpet. They are the best.
13. The Lego Movie
Everything is awesome, and so was that performance.
14. The Big Hero 6 upset
No one thought Big Hero 6 would take the award … Boom. John Lasseter wins again.
15. Birdman
Finally, <i>Birdman</i> deserved every award that it received. Michael Keaton's comeback is duly noted.
Previous
Next
BEGIN