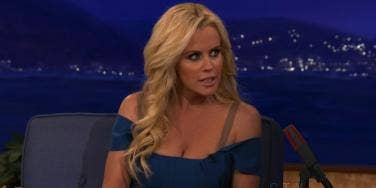 Jenny McCarthy is not an MD, and neither are these famous anti-vaxxers.
I'm not a doctor or medical expert, so I can't speak definitively about the vaccine controversy. All I know is this: on one side of the argument are a bunch of doctors, immunologists, epidemiologists and medical experts saying that kids should get vaccines. On the other side of the argument is a bunch of semi-famous people, like Jenny McCarthy.
Look, just because doctors say one thing doesn't mean that we should ignore the celebrities that say the opposite. Just because the experts disagree with them doesn't mean that the famous people are wrong. (I really hope you can tell how sarcastic I'm being here. If not, I'm being super sarcastic. Don't ever listen to a celebrities opinion on anything, especially medical advice.)
Just because somebody is famous and they believe something doesn't mean that it isn't also stupid. Also, considering the famous people that are "anti-vaccine," that should be a pretty good indication of how intelligent that side of the argument is. When you're on the same side of an argument as Jenny McCarthy and Rob Schneider, than you should really reconsider your life choices. Here are the celebrities that forgot that they aren't doctors and don't know what they're talking about!
10. Donald Trump
Apparently, Donald Trump got vaccines and comb-overs confused. One works and the other doesn't.
2. Charlie Sheen
I mean, seriously, Charlie Sheen. Look, if somebody was throwing a party and was taking advice from Charlie Sheen, I would understand. If you're raising a child and trying make a serious medical decision, you probably shouldn't cite Charlie Sheen's opinion.
3. Jenny McCarthy
Jenny McCarthy got her start posing in Playboy. Suprisingly, doing so did not actually make her qualified to dispense medical advice.
4. Jim Carrey
Jim Carrey once dated Jenny McCarthy for a really long time, so whether or not he's actually anti-vaccine or was just super-whipped isn't clear.
5. Kristen Cavallari
Hey, some former reality TV star thinks vaccines are harmful. That should be all the evidence you need to not be afraid of vaccines.
6. Bill Maher
Bill Maher forgot that he's a comedian and not a doctor and spoke out against vaccines. He then went on to make a bunch of really smug comments to try and appear smarter than he really is.
7. Mayim Bialik
In all honesty, Mayim Bialik is much smarter than I am, and probably most people. She has a doctorate in neuroscience, and I don't know what neuroscientists do, so maybe she knows what she's talking about?
8. Rob Schneider
Did you know Rob Schneider has serious opinions about important issues? You should treat his opinions the same way that everyone in Hollywood who isn't Adam Sandler treats this guy's acting abilities.
9. Alicia Silverstone
You know how many experts have cited Alicia Silverstone's opinion on any important issue, ever? The number is zero, which is how many clues this actress has.
1. Billy Corgan
Wait, Billy Corgan still exists? The guy couldn't even keep the Smashing Pumpkins from breaking up, why would it matter what he thinks about vaccines?
Previous
Next
BEGIN