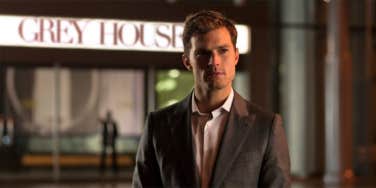 'Fifty Shades of Grey' is out … so let's talk about Mr. Grey.
We have been waiting a long time for this movie to get here, probably not because we are going to like it though. Let's be honest here, the book itself was pretty terrible, which is why most people hid the title within their Kindle library. That's the best part about guilt pleasures though, am I right?
Then they cast Jamie Dornan and you broke up with whoever you were dating at the time because you didn't need a Valentine's Day date anymore now that you had a solid date night planned with a Christian Grey who was that hot. (We actually don't really care about Dakota Johnson, because Anastasia Steele is possibly more boring than Bella in Twilight.)
Anyways, it's February 14th which was formerly Valentine's Day but now I am dubbing it Jamie Dornan day. From here on out, every year we will get together with our girlfriends and celebrate the joy of Jamie Dornan with a Fifty Shades Of Grey drinking party, followed up with every other movie or TV show he was ever involved with. At least then you won't care about getting flowers and worrying about being alone. I'm sure you're out seeing the movie right now, but if you're waiting for your showtime, here are 12 reasons we are absolutely obsessed with Jamie Dornan:
1. His Face
No seriously, not to totally objectify him, but that face is perfect.
2. His Facial Hair
The only thing hotter than Jamie Dornan's face is his face with facial hair.
3. That Accent!
Guys, he's Irish. Thus proving that we all need to vacation in Belfast like right now.
4. Once Upon A Time
What happened after Jamie Dornan left the show? No one knows because no one continued to watch it.
5. The Fall
I'm serious, anything with him in it, I'm in, no questions asked. Even if he is playing a serial killer.
6. His Walk
He went on the Graham Norton Show and went into a long rant about how he is super self-conscious about the way he walks and it's the most adorable thing ever.
7. He lived with Eddie Redmayne!
DOUBLE PERFECTION IN ONE HOUSE!
8. Calvin Klein Underwear
Google immediately if you haven't seen the "golden torso." If it was socially acceptable for a 25-year-old to hang celeb posters on my wall, that would be it.
9. His Don Rickles obsession
He's obsessed with Don Rickles the way I'm obsessed with him. It kind of makes me feel better.
10. He can't DIY.
This is probably the only man we would excuse from handy work around the house.
11. Umm, he sings.
He was in a band called Sons of Jim.
Previous
Next
BEGIN