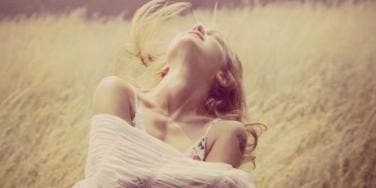 Thoughtgasms are a thing, you guys.
Sex is wonderful, from intimacy to pleasure to body heat. (Hey, it's winter!) But while humanity may always be in search of the "big O," there's quite a few ways to get there.
We've long seen that that, while sex obviously plays a big role, orgasms actually begin in the brain. Once we accept that it's possible to orgasm in a variety of ways, we can begin to have a more varied erotic response. Sure, we know we can get off with another person, on our own, or with our favorite well-placed shower head. (Seriously, give that shower head a try—it's all about the right positioning and water pressure!) A great orgasm can even be found from sitting on your washing machine, killing time until those fine washables are ready.
But that's not all. Sexy realities can be found through fantasy, sleep, reading erotic novels (not necessarily Fifty Shades, you guys), or from areas you'd never expect—like, say, a really great yoga class. Ever hear someone moan a bit too much at hot yoga. That "om" may have been an "ohhhh!".
We are our thoughts—and what we read—and, hell, what we breathe during those core exercises. Extra incentive is a whole lot of fun can be found in the most unexpected of places.
Photo: We Heart It
6. Thoughtgasms:
Some people have the capacity to induce orgasm by thinking themselves off, but even in those who do not have this ability, thinking about orgasm activates some of the same brain regions as actually having one, says Mark Michaels, co-author of Partners in Passion, Great Sex Made Simple, Tantra for Erotic Empowerment, and The Essence of Tantric Sexuality. This highlights what is possible if you can make a concerted effort to create or reinforce pleasurable associations and more specifically erotic or orgasmic ones.
Photo: We Heart It
5. Keglegasms:
"People often think of working the pubococcygeal muscles as nothing more than an exercise for strengthening the pelvic floor, but doing Kegels in a rhythm that mirrors your typical orgasm can be an excellent way to trigger one," says Johnson. When you are first learning to generate the response, it may be helpful to self-pleasure at the same time. With practice, you're likely to start experiencing intense pleasure hands-free.
Photo: We Heart It
4. Sneezegasms:
Orgasm is the reflexive release of muscle tension. A sneeze is a micro-expression and is very similar. It is best to focus on similarities between the sensations you experience after a sneeze and the way you feel after orgasm, says Patricia Johnson, co-author of Partners in Passion, Great Sex Made Simple, Tantra for Erotic Empowerment, and The Essence of Tantric Sexuality. It may take some practice.
Photo: We Heart It
3. Sleep-gasms:
"These are among my favorite type of orgasm, as they require no emotional or physical effort whatsoever!" says Dr. Jess. You cannot control your "nocturnal emissions", but you may find that you are more likely to enjoy sex dreams that lead to orgasm when you fantasize before falling asleep.
Photo: We Heart It
2. Brain-gasms:
"These are relatively rare, but I've met two women who learned to think themselves off," says Dr. Jess. One combined fantasy with pelvic floor contractions and the other explained that she could use fantasy to reach orgasm with no physical stimulation whatsoever. Researchers are beginning to study this experience in the lab (using MRI technology), but it is unlikely that most women can themselves how to have a brain-gasm.
Photo: We Heart It
1. Coregasms:
More women (and even a few men) are having "spontaneous" orgasms at the gym, says Astroglide's Resident Sexologist Dr. Jess. It's possible that these surprising waves of pleasure are connected with contraction and release of pelvic floor muscles, but we still have lots to learn. Experienced coregasm-ers say that cycling/spinning, abdominal exercises and climbing poles are ropes can bring them to climax and offer an extra incentive to hit the gym.
Photo: We Heart It
Previous
Next
BEGIN