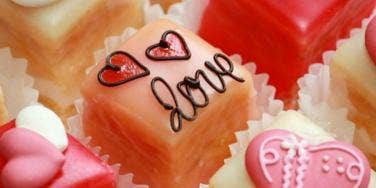 Yep, everyone.
Well, it's that time of year again. Valentine's Day is almost upon us, which means it's time to get your gift game in order.
And this year, you've got more to worry about than just your wife or hubby. This year, you are bound and determined to do something special for everyone in your life, right? Well, we've got your back, whether you're looking for something for mama, a co-worker, or that new special someone. And this year, let's try to go beyond candy and flowers. Let's really take things to the next level by, I don't know, putting a little thought into our gifts. Sounds crazy, right? But we swear, if you take the time to put some effort in, you will be very pleased with your results. Use your imagination! Really think about what the important people in your life like to do, read, cook, watch (you get the drill), and use that to your advantage. Spend some serious time thinking about the people around you and how you can best show your love. Of course, nothing beats time spent together, but a shiny new something never hurt either. So kill two birds with one stone and give everyone on your list a special something, while spending quality time together. Win!
Photo: WeHeartIt
1. Mom
It's hard to go wrong with a gorgeous scarf, especially a creative one. This particular scarf is printed with a passage from Jane Eyre.
Find it at Uncommon Goods.
2. Dad
If your dad is of the hard-working-but-still-likes-to-look-nice variety, go with the Working Man's Hygiene Kit. And if he's not, get it anyway. A little hygine never hurt anyone.
Find it at Uncommon Goods.
3. New boyfriend or girlfriend
With a new relationship, you don't want to overwhelm your partner with something too flashy or intense, so for new boyfriends and girlfriends, we recommend an event, like a concert or a night at the theater. If you're here in New York with us, give the Met a try!
Find Met tickets here.
4. Husband
Bacon! Who doesn't love bacon? Your husband most likely does. (Really, you could get this for anyone. Someone sent my family bacon of the month and we lost our ever lovin' minds.)
Find it at Gifts.com.
5. Wife
Instead of something boring like flowers or jewelry, try going off the beaten path. For example, if your sweetie likes to experiment in the kitchen, try this molecular gastronomy kit.
Find it at Uncommon Goods.
6. Best friend
If you're anything like me, and you've already promised to grow old with your best friend, this card is all you need to celebrate the day.
Find it at Etsy.
7. Colleagues
Nothing says "Guys, I love you," like cupcakes. This Valentine's Day, treat your co-workers to something yummy from Baked by Melissa. Y'all, we live and die for these things in our office.
Find them here.
8. Yourself
Whether you're with someone or flying solo this Valentine's Day, you deserve a little something special (because honey, you work hard). I'm partial to this hilarious personalized luggage tag, but that's just me. Go our there and find yourself the perfect gift for the dearest person in your life; you!
If you like the luggage tag, find it at Etsy.
Previous
Next
BEGIN