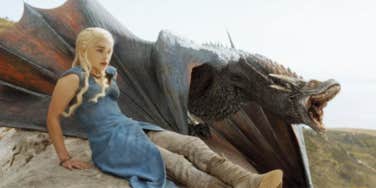 These badass ladies are rightfully taking over TV.
2015 is the year of badass women. There are the real women who are changing the world (hey Hillary!) and then there are the ones that we watch on TV that inspire the rest of us who are probably eating pizza and just happy that we survived another day at the office. Yeah, that's more than likely, but at least we have television women to live vicariously through.
We aren't the only ones either, even Taylor Swift named her cats after two prominent badass fictional women (shout outs to Olivia Benson and Meredith). There have always been strong, independent women on TV, but back in the day we only had Xena and Agent Scully. Basically, we had a small number of women to choose from, but now because of people like Shonda Rhimes and George R.R. Martin, these women are so awesome that we kind of want to be them.
So this year we are celebrating the women that seriously kick ass for a living. Some of them have dragons, some of them work at Seattle Grace and others are lawyers and cops that really steal the show away from most of the men on the show. Basically like Beyonce told us, girls run the motherf—king world. Boom. Here are 18 badass women that you should be watching on television right now:
1. Daenerys Targaryen
I mean, she's the mother of dragons. Once you have pet dragons, it's pretty obvious you've won at life.
2. Arya Stark
Last season she started killing people and now she's making it on her own. Compared to all the other women (except Khalessi) she's a badass.
2. Annalise Keating
She is accusing her dead husband of murder and covering up his murder and she's only cried like two times.
3. Olivia Pope
The president started a war for her. She is literally the most powerful woman ever. Even when she's locked up, she is a badass.
4. Rosa Diaz
Rosa will kick your ass at the drop of a button, but she's also a good friend even if she comes off as an ass. Basically don't mess with Rosa Diaz.
5. Leslie Knope
She takes care of business. No further explanation needed.
7. Carol Peletier
Carol would outlive all the men in the zombie apocalypse. That's badass.
8. Emily Thorne
Emily Thorne is always one step ahead of you. Watch out.
9. Selina Meyer
Madam Vice President definitely fits the bill.
10. Mr. Kaplan
She cleans up all of Reddington's murders on The Blacklist because she's a baller.
11. Red
She runs the kitchen and the prison. She may have lost a little bit last season, but she will return full force.
12. Crazy Eyes
When people are scared of you it's because you're a badass. Plus, Uzo Aduba is everything.
13. Claire Underwood
Because without Claire, Frank would be nothing. She literally put him in the White House.
14. Alicia Florrick
She basically had to pick up the pieces of her life that came crashing down when her husband landed in prison. She's everything.
15. Olivia Benson
She is the master at solving sex crimes, you're welcome humanity.
16. Nicole Herman
Not even a brain tumor is going to stop Geena Davis from being a badass.
17. Michonne
She has a samurai sword! The end.
18. Miranda Bailey
Miranda Bailey has only the highest standards for medicine and men. Have you seen Bailey's men? Perfection.
Previous
Next
BEGIN