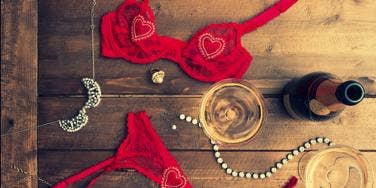 Awesome gifts for your significant other, BFF or yourself.
Valentine's Day can be a tough time of year, whether you are single, in a new relationship, or together forever. You want a gift that will reflect your relationship—fun, sexy, unique and special. But you also don't want to go too far—getting someone something expensive and over the top while they get you a small token can lead to way more relationship drama than the holiday intends. The ideal Valentine's Day is the one we can fun with, regardless of if our Valentine is our boyfriend, our husband, our best friend, or ourselves.
And, yes, it's totally OK to get ourselves a special treat for the day! Check out this assortment of gift ideas, either for someone to give you, you to give someone else, or for you to give yourself. They come at all price points, and are appropriate for all sorts of scenarios – but every single one is very, very sexy! Chocolate and flowers will never go out of style, but the best gifts are ones that put a whole new saucy spin on the sweet holiday, don't you agree?
Photo: We Heart It
1. Couples' massage
"When thinking back to past saucy dates, two "touch" me immediately! I was dating a new guy and on our fifth date, we impulsively drove to Thai town in LA and he bought us a Couples' Massage. I remember lying next to one another and watching each other squirm in ecstasy, as we were being touched. I can picture the look in his eyes and it was HOT! We had a saucy night when we got home.
One Valentine's Day, I surprised a serious ex with a Couples' Massage at a high-end private massage spa. While one person is receiving a massage, the other is in a robe lounging on a couch drinking fabulous wine and snacking on French cheeses, meats and breads. When the single massages were through, the two of us were left to devour the delicious delights, including each other!" says Brooke Lewis, Dating/Relationship Expert.
2. No-strings fun
Yes, you are uncoupled, but that's still no reason to crawl into bed and hide under the covers. Dr. Emily Morse, sex expert and host of the top downloaded sex and relationship advice podcast "Sex with Emily".
"We've all seen the Sex and the City episode where Charlotte falls victim to the charm of the wonderful Rabbit Habbit and refuses to leave her bedroom? Well Vibratex has come up with another dual-action delight for your vibrating pleasure: The Dahlia. It's pink, it's pretty and it packs a multi-function, two-part punch. The external butterfly appendage flutters against the clitoris while the smooth, rotating head swirls against the G-Spot!" says Dr. Emily Morse, sex expert and host of the top downloaded sex and relationship advice podcast "Sex with Emily".
Instead of binge-eating chocolates or hitting the bars, give yourself a Valentine's Day gift: The gift of multiple orgasms.
3. Jewels with a spin
"Here's one thing you definitely don't have hanging in your closet or goodie drawer: A gold-plated vibrator disguised as a necklace!" says Morse.
The Vesper by Crave is the perfect combination of elegance and pleasure. It is sleek and beautiful as a necklace, while still being a discreet and powerful vibrator. It's no secret that a beautiful piece of jewelry can make a woman go weak in the knees. But you're your date surprises you with a gift that would make you weak in the knees, and then bring you to orgasm? That, my friends, is what we call the gift-giving jackpot.
4. Fitness (for sexy times)
"The new Luna Smart Bead kegel trainer works wonder on the pelvic floor. Unlike normal kegel beads, this device trains with your body, strengthening your pelvic floor over time. It is the gift that keeps on giving, because it increases sex drive and orgasms. For an added twist, be sure to use it during foreplay!" says CanDace The S(h)edonist, of SleepingWithMANhattan.com.
5. A romantic spa night
So you committed the classic V-Day faux pas: You waited until the last minute to make dinner reservations and missed out on that table for two at that place that you love. But before you go into panic mode, take a moment to consider a different option. One that won't require an overcrowded overpriced restaurant. One that starts and ends with the gift of an Emily & Tony massage candle, says Morse.
"Whether you whip it up yourself or order in, enjoy a romantic dinner by aromatherapy candlelight. Is that vanilla you smell? Why yes, it is! Then afterward, you can move the party to the bedroom. Use the silky and luxurious candle oil to treat your partner to a sensual massage. Once you're both stripped down and oiled up, there's only one thing left to do! And that's one thing the swanky Italian restaurant down the street just can't offer!" she says.
6. Concierge panties
Whether you are long distance or just want to build anticipation for the next big date, Enclosed is a concierge panty service that delivers a pair of luxe, sexy knickers straight to any wife's/girlfriend's/lady friend's door on a monthly basis, according to the preferred length of subscription —allowing men to shop for the ultimate in romantic holidays from the comfort of home (and without the guesswork).
As Enclosed arrives as a beautiful presentation every month, he won't even have to gift wrap anything —the knickers will arrive inside of a keepsake box filled with seasonal flower petals (so he's also killing the "gift" and "flowers" bird with one stone). There's also an option to include a personalized note, making the gift extra thoughtful. Model them for him after opening, and Valentine's Day is well underway.
Note: This is also a great gift for those single gal pals or as a treat for yourself (whether currently attached or not)—because who says you need to be in a relationship to receive/wear pretty underthings?!
7. Creative sweets
Chocolate and candy may be cliché at this point, but you can kick it up a notch with a really fun creative spin. At eCreamery you can create your own flavor of ice cream, gelato or sorbet. Dream up your own personalized flavor with add ins, design your label, eCreamery will make it and have it delivered to your door. Choose from over 40 rotating flavors and 30 mix-ins, and maybe create a sexy ice cream flavor like blood orange Habanero chocolate chili pepper or Amaretto with Cherry Swirls & Dark Chocolate!
While you are at it, add another layer of sexy with Moonshine Cherries. Maybe for one night, skip the wine, on to the moonshine! They are maraschino cherries soaked in 100 proof Tennessee moonshine. Will definitely get the party started!
8. Break out the good wine
Not that we're advising drinking someone into submission, but make date night ever more fun with a special array of libations. This Valentine's Day, ditch the roses in exchange for Rosé, for instance PIPER-HEIDSIECK Rosé Sauvage, a saucy and sweet sip. Certainly sexier than hearts and flowers.
"Sauvage" literally meaning "wild"—has a festive hot pink label on the outside, and an impressive deep pink hue in the glass. The palate consists of red fruit aromas reminiscent of strawberry jam, with a spice-tinged finish, which pairs perfectly with aphrodisiacs including oysters. Another fine idea for a vino if you are on a budget but want one of the best, Chandon is offering fun Chandon Rosé mini bottles for $8 each!
9. Sexy PJs
But not what you think.
Are non-lingerie pjs sexy or saucy? They can be. Put on one of these uber comfy fleece onesies and then let him unzip…it's a toss-up which one of you the gift is for!
Previous
Next
BEGIN