Photo: We Heart It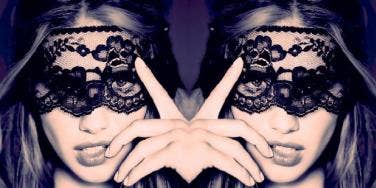 You don't have to incorporate Christian Grey-style tactics to have a hot sex life.
The 50 Shades Of Grey phenomenon is causing a lot of couples to stress over how to spice up their own sex lives from a rise in handcuff incidents to forcing one another to sit through what's sure to be one helluva an awkward movie. And speaking of the 50 Shades hoopla, in 2012, Trojan conducted a survey that found that 50 percent of couples think their own sex life needs "charging up." And as their hilarious 50 Shades Of Grey spoof 50 Shades Of Pleasure shows, going to extremes can get, well, awkward — and painful, but not in a necessarily titillating way:
Sex therapist Sari Cooper recommends small steps to make your intimate life more fun and exciting with toys and props that aren't, uh, hardware. "Trojan products are everywhere, even grocery shopping," Cooper explains. "It eases the whole thing: couples don't necessarily have to go to a sex shop downtown, which can be intimidating."Instead of incorporating contracts and kinky business with sex, Cooper suggests bringing back the playful part of sex. She also suggests clients ask themselves, "Which game do you like? Scavenger hunts? Twister? Hide and seek?" Think of your new toys in those terms: A blindfold can easily be incorporated into those games and be fun and hot for you both, and you won't have feel so pressured and serious like in the movie. Sex is supposed to be fun and the success is in trying something new – just do something different! That's the win!
That said, there are plenty of easier, less strenuous ways to heat things up in the bedroom than psychological abuse from a billionaire who thinks you look like his "crackwhore" mom (seriously). In fact, some of the sex scenes in 50 Shades Of Grey wouldn't be sexy at all in real life because, well, real people are different than one-dimensional characters. Here are the weirdest and most uncomfortable 50 Shades Of Grey sex scenes to reenact in real life — and a few ways to make sex better in ways that are, er, easier to swallow. (Hint: Start with, say, lubricants or vibrators before going all out with a damn riding crop.)
1. Using Frozen Goods For Hot Foreplay
Yes, it was admittedly super hot when Christian Grey spooned ice cream over Ana Steele's body (we won't spoil how he cleaned it up for you), but lets be real: there are a lot of issues with using actual ice cream in bed: It's sticky, certain flavors can be abrasive (we're looking at you, mint chocolate chip), your sheets can get stained, and eating ice cream is basically a race against time because what happens when it melts?!
Try this instead: How about using a good ol' fashioned ice cube instead? Less mess (and zero calories!) with the same chilly sensation. If you're not into that, grab a bottle of Trojan Arouses & Intensifies Lubricant for your foreplay fun. You get all the good stuff without the freezing cold, stickiness or risk of diabetic shock.
2. Letting Your Partner Shave You "Down There"
Unless your partner is a professional waxer (and if so, we're jealous), most of us would rather avoid nicks, cuts, potential infections, itchy regrowth, stubble, and painful ingrown hairs. Hide the razors, ladies!
Try this instead: If you're into trying a new grooming technique "down there" to surprise him, opt for a wax at a professional salon. And if he wants to play the "dominant" role (and control the look of your pubic hair), he can spring for the wax himself. And in exchange, he can get to work extra hard on your pleasure by picking up the Trojan Vibrating Hot Spot Ring, a powerful vibrating ring that touches just the right spot during sex.
3. Using (Gulp) Nipple Clamps
Let's be honest: Nipple clamps are terrifying. Period.
Try this instead: Avoid going straight to the heavy hardware, and try pinching with your hands. If it hurts and you hate it, at least you won't need a screwdriver to undo any damage. Pro tip: Be sure to include a safeword anyway just in case the pinching you enjoy feels like torture to your partner. (And, uh, good safewords for beginners include "no" and "stop.")
4. Corporal Punishment With a Ruler
Depending on how soft your particular generation is and where you went to school, you may or may not remember being slapped with a ruler when you disobeyed in the classroom. Let's just say, rulers are sharp they leave marks on your skin. Plus: OUCH.
Try this instead: If you need extra sensation or want to play the part of a naughty girl, try something with softer edges and fewer disturbing potential memories attached to it: A hand, a ping-pong paddle, anything else.
5. Pool Table Sex
Felt isn't the most skin-friendly fabric, especially when it's covered in chalk marks. Also, getting up there when you're short? Not easy. Also, who has a pool table in their home? There's not a lot of privacy at the local sports bar, we're guessing, so … nope.
Try this instead: If you're looking for fun with balls and pockets (wink!) surely there's a spot in your apartment that hasn't been christened yet: a coffee table, the floor, or the shower. Switching up locations, even in the privacy of your own home, adds just that right touch of excitement (without the felt burns).
6. Lathering Baby Oil Everywhere
Even though Ana and Christian love them some baby oil, it's actually not the best personal lubricant if you're trying to prevent pregnancy and STDs: Oil can degrade latex, which makes it a bad choice to use with condoms. Spoiler alert: Perhaps that explains the Grey baby? Just sayin'.
Try this instead: Use an actual lubricant, like Trojan Tonight, which features two products in one - the "Pre-Game" lube can be used for the sensual massaging to get you revved up for the big act, while the "Game Time" lube can make sex comfortable (and safe) for everyone involved.
7. Sex In A Public Parking Lot
After a frantic car chase, Christian and Ana have sex in a parking lot. Newsflash: Many parking facilities have surveillance cameras, which means you could potentially provide free porn to a rent-a-cop somewhere or (yikes!) wind up on YouTube. Additionally, actual cops can arrest you for things like trespassing or public nudity.
Try this instead: If you want to get naked with your partner, and feel like you're risking your squeaky-clean criminal record, purchase a pair of handcuffs and go to town in private.
Previous
Next
BEGIN