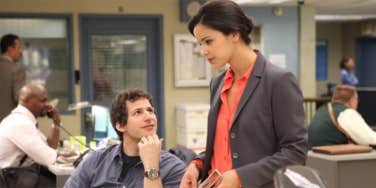 Can these 12 couples just be together forever already?
Not only are we obsessed with TV, but were obsessed with the couples on TV, mainly because they either make us insanely jealous or make us happy that we aren't in them. There is literally nothing worse in this world than being obsessed with two characters who are good friends, who you know deep down inside are supposed to be together, but it takes forever to happen, if it ever happens.
You as fans are called "shippers" (short for "relationshippers"), which means you really want two characters to finally hook up. The term came about from the X-Files back in the day when the whole world wanted Mulder and Scully to get it on. Now the phrase is a big thing in the fiction world. There have been so many past ships like Ross and Rachel, Ted and Robin, Meredith and Derek, Luke and Lorelei, and I think you're catching my drift. Unfortunately we are never ship-less, because there are always characters that we want to hook up on shows. It's really a never-ending cycle of torture, especially the ones that ended and we never got our relationship. Here are 12 TV couples that should have hooked up and totally shipped yesterday:
1. Carol and Daryl
COME ON ALREADY. We want Carol and Daryl from The Walking Dead to bang right now. What do you have to lose guys?
2. Peralta and Santiago
Oh Brooklyn Nine-Nine, we've established that Jake and Amy like each other… we are now waiting for something to happen! We're so close.
3. Jaime Lannister and Brienne of Tarth
The only time we've ever liked Jaime Lannister on Game of Thrones is when he was with Brienne … They were great together, admit it!
4. Jack Porter and Emily Thorne
We might be getting close to this. The previews claim that he's finally going to tell her. We've been waiting for years.
5. Jake Ballard and Olivia Pope
Yes, they've already hooked up, but can these two just live happily ever after already? Probably not because Shonda Rhimes is an evil genius.
6. Shoshanna and Ray
Ugh, these Girls characters really need to get back together. These awkward run-ins are killing us.
7. Elena and Damon
Has this happened yet? Mainly because everyone wants to have sex with Ian Somerhalder. I know these two on The Vampire Diaries dated previously … but they just need to stay together.
8. Becca and Andy
If you haven't started Hindsight, you need to immediately. Becca goes back in time and calls off her wedding, now she needs to hook up with Andy start dating Andy like right now. He needs to dump his annoying girlfriend. P.S. You should be watching this VH1 show.
9. Jenna and Matty
For real this time though. Awkward. is ending soon and Jenna Hamilton and Matty McKibbens need to be together forever.
10. Alicia and Finn
The Good Wife has been dragging this one out for awhile. It's time for Julianna Margulies to get with the hot Brit.
11. Ilana and Lincoln
These two Broad City kids need to get it together and stay together.
12. Frank and Laurel
A weird match-up on How To Get Away With Murder, but honestly, we kind of see this working out somehow.
Previous
Next
BEGIN