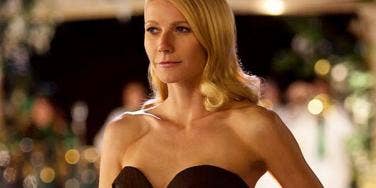 Warning: Reading this will cause severe eye rolling and countless passive-aggressive sighs.
Let's face it: Gwyneth Paltrow's life is rather fancy. And unlike many other celebs, she never really seems fully appreciative of all the riches that she has ... until now, maybe. Paltrow went on a "food stamp" diet recently to see how far food stamp dollars could stretch to get her lifestyle's worth of food, and it wasn't that far.
That isn't even the tip of the Rich White Paltrow Iceberg, though. While on the PR circuit promoting her new movie Mortdecai (can someone please explain to us what it's even about?!), Gwynny is sharing stories of her family, friends, current relationship with ex-hubby Chris Martin and other various Goop-tastic aspects of her life — such as, a recipe for a chocolate treat called Sex Bark as well as how anyone currently in LA needs to get a vagina steam, like, yesterday.
"The real golden ticket here is the Mugworth V-Steam," she wrote in a recent Goop post. "You sit on what is essentially a mini-throne, and a combination of infrared and mugwort steam cleanses your uterus, et al. It is an energetic release – not just a steam douche – that balances female hormone levels. If you're in L.A., you have to do it."
Eye roll count: 1.
So sure, it's easy to snark on Gwyneth. Part of comes from envy, because her life is way more luxurious and easier than most of ours. But, truthfully, it irks us to see her constantly standing on a soapbox, using her platform to complain about her life.
Here are some of the more ludicrous quotes and hilarious life advice nuggets with which she's recently gifted us.
If you're searching for the best quotes and memes to share with the people you love (or just want to feel inspired yourself) ... look no further! From the sweetest love quotes, inspirational sayings, and hilarious relationship truths, we've got you covered.
1. Even SHE doesn't "have it all," guys.
"I look for an interesting supporting part about once a year. That's the most I can manage. Some women can do it and that's fantastic, but I can't. You make choices as a wife and mother, don't you? You can't have it all. I don't care what it looks like," she said in an interview with U.K.'s InStyle magazine.
2. She plays hooky with her daughter.
If only we could all be so lucky. In an interview with Good Housekeeping, she said, "I'll probably get kicked out of our school for admitting this, but I let Apple stay home yesterday. I just needed to be with her. We went out to lunch, we went to the beauty salon, we were together."
3. Workouts come first because, duh. What's your excuse?
"Every woman can make time — every woman — and you can do it with your baby in the room. … There have been countless times where I've worked out with my kids crawling around all over the place. You just make it work, and if it's important to you, it'll be important to them," she said in 2010.
4. Being a working mom is, like, crazy hard. Boo hoo hoo.
"I do feel so guilty and, like, What am I doing? but I also want them to know work is really fun for me — 'Hey, look what I get to do!' As opposed to feeling like, 'Oh, I'm a terrible mother.' Because that really just doesn't get you anywhere. It doesn't get them anywhere," Paltrow said to Good Housekeeping.
5. She's not THAT rich and famous—when compared to Bey and Jay.
"The great perk of being their friend is that I have a relationship with people who have similar … I mean, obviously I'm not as famous or as successful as they are, but I do have a life in the public eye and I do sort of have people to walk through life with in that capacity," she said. "They're very kind and loving people and it also means I get to be around their daughter, who I love so freaking much!"
6. Let's not forget her deep thoughts on divorce.
We all laughed when she referred to her split from Chris Martin as "consciously uncoupling." Now, she's realizing how cuckoo she can be. "It's working, but it is kind of a goofy term," she recently said.
7. She's been stretched too thin.
"I had built my life on trying to be all things to all people, and I just couldn't do it anymore," she complained to Marie Claire.
8. What about her needs, you guys?!
"I really had the sense that I wasn't allowed to have needs, and I had to prove my specialness or self-worth by doing all this stuff and taking care of everybody else," she also revealed to Marie Claire. "And I just sort of hit a wall."
9. Stop complaining and we'll stop judging. Deal?
"I think we are all genuinely doing our best, it's hard to have children and a career, and all some women seem to do is judge other women's choices," Paltrow said to Marie Claire, which really got an earful during this interview. "I find that demoralizing and unhelpful."
10. Oh please. This is like comparing apples and oranges.
"I think it's different when you have an office job, because it's routine and, you know, you can do all the stuff in the morning and then you come home in the evening," she said. "When you're shooting a movie, they're like, 'We need you to go to Wisconsin for two weeks,' and then you work 14 hours a day and that part of it is very difficult. I think to have a regular job and be a mom is not as, of course there are challenges, but it's not like being on set."
11. Do you really want us to answer this, Gwyneth?
"As the mommy wars rage on, I am constantly perplexed and amazed by how little slack we cut each other as women," she wrote in a Goop newsletter. "Is it not hard enough to attempt to raise children thoughtfully, while contributing something, or bringing home some (or more) of the bacon? Why do we feel so entitled to opine, often so negatively, on the choices of other women?"
12. International nannies. It's totally a thing.
"She's French, so she's teaching them French, and their previous nanny was Spanish, so they're fluent in Spanish."
13. She's even too good for the 'Murican Dream.
"I love the English way, which is not as capitalistic as it is in America. People don't talk about work and money; they talk about interesting things at dinner parties. I like living here because I don't tap into the bad side of American psychology, which is 'I'm not achieving enough, I'm not making enough, I'm not at the top of the pile.' It's just kind of like, I am."
Previous
Next
BEGIN