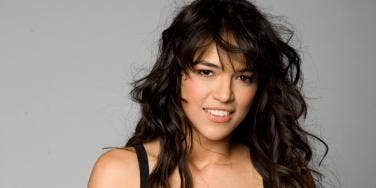 These stars are terrified of being tied down.
Michelle Rodriguez is the latest celebrity to be unlucky in love and admit that it's her own fault. The bisexual actress, who's dated Cara Delevingne, Kristanna Loken and Zac Efron, admitted to Milla Jovovich in Interview magazine that she's a straight up commitment-phobe.
"I'm a lone wolf," Rodriguez, 36, confessed. "I run by myself on most things. I've got lots of really great friends, but the thought of being in a long-lasting relationship? Psh, I couldn't last more than six months with somebody."
That doesn't mean Rodriguez doesn't want to eventually settle down, though it'd likely be with a child instead of a lover. She gushed, "I just want that unconditional love, the kind you get with a family member. You might get lucky enough to find that unconditional love in a friend or a lover, but it's very rare. So if I ever have a kid, it'd be so that I could look in those eyes and know that this child is a piece of me and will love me the same way I love, but I think that's selfish of me."
Well, it sort of is. Especially when you remember that it's possible to last more than six months with the right person if you're willing to put in the work and maybe put the bottle down. Here are 20 stars who share in Rodriguez's inability to commit.
1. Michelle Rodriguez
From flings with Kristanna Loken to Zac Efron to Cara Delevingne, Michelle Rodriguez admits that she can't stay in a relationship longer than six months. Except with booze. She seems to love that stuff unconditionally.
2. Leonardo DiCaprio
Leonardo DiCaprio treats women the way the rest of us treat Christmas trees: After the 25th, he kicks them to the curb for a new model.
3. Rihanna
Rihanna bounced from Chris Brown to Drake back to Chris Brown, then back to Drake, with rumored dalliances with J.R. Smith and now Leonardo DiCaprio in between. We bet that'll end well.
4. Chris Brown (and Karrueche Tran)
Chris Brown and Karrueche Tran are both rumored to be cheaters, but keep coming back to one another. They may love to tell themselves it's because they're in love, but let's be real: It's because neither of them thinks they deserve any better.
5. Drake
When Drake isn't giving interviews about how he'd marry Nicki Minaj or how obsessed he is with Rihanna, he allegedly threatens strippers lives after sleeping with them. Because he's really classy and sensitive, you guys.
6. Jude Law
Remember the nanny? And it wasn't even Fran Drescher. For shame.
7. Sienna Miller
Sienna Miller may be in a longterm relationship with baby Tom Sturridge, but let's not forget her habitual dating of married men (like Balthazar Getty), rumored fling with Daniel Craig while with Jude Law ... it's not a coincidence that the girl doesn't have a ring on it. She probably doesn't want one.
8. Liam Hemsworth
Maybe Liam Hemsworth wasn't scared of committing to Miley Cyrus in a marriage when they were that young. Maybe he was just scared of all that twerking, tongue-gouging stuff she's into now instead of shampooing.
9. Nina Dobrev
Ian Somerhalder reportedly wanted to settle down with his Vampire Diaries co-star Nina Dobrev, who was like, "Uh, I'm really young, dude." So now he's with another onscreen vampire who just got divorced. Hey man, there's a lid to every pot. Dude's got a type.
10. Jeremy Renner
Jeremy Renner tried marrying his baby mama, and less than a year later filed for divorce. Wrap it up next time, bruh.
11. Taylor Swift
Maybe Taylor Swift is a cat lady and can't keep a boyfriend because deep down, she's scared of all that. Or maybe because she's actually her crazy "Blank Space" video caricature. All I'm saying is, it's possible.
12. John Mayer
If John Mayer really wanted to settle down, he wouldn't have called Jessica Simpson things like "sexual napalm," he wouldn't have talked to reporters about splitting from Jennifer Aniston, he wouldn't be rumored to have hooked up with a then-married Food Network starlet, he wouldn't have inspired a Taylor Swift song and he'd find someone more intellectually on his level than Katy Perry, who thinks the definition of "subtlety" involves shooting whipped cream out of her boobs.
13. Kourtney Kardashian (and Scott Disick)
Three kids. Zero rings. Let these two live.
15. Rita Ora
Rita Ora has said that despite Rob Kardashian's claims of her cheating on him with an alleged "20 dudes," they were never even in a relationship. Nick Jonas wrote a song about her and she was like, "Wait, what?" Ora also claimed that Calvin Harris was the first time she'd ever been in love, and then he went all psycho after they split, insinuating that she'd done something awful but never saying what, and even blocking her from performing their collaboration "I Will Never Let You Down" on TV. (Which makes us think that he's just a bitter ole' beyotch. You do you, Rita.)
16. Hugh Grant
Hugh Grant dated Elizabeth Hurley for years, cheated on her with a hooker, and she took him back and he still didn't marry her. He's since then had a few kids with a few different women and remains so charming it's almost offensive.
17. Paris Hilton
Paris Hilton is basically turning into the female Leonardo DiCaprio, just replace the doughiness with DUIs.
18. Diddy
Hey, Cassie? Where's your ring? Yeah, we know.
19. Madonna
After marriages to an insanely abusive Sean Penn and Guy Ritchie didn't work out, Madonna has since moved on to athletes (like Alex Rodriguez) and a string of models and dancers all half her age. Go on, Madge.
Previous
Next
BEGIN