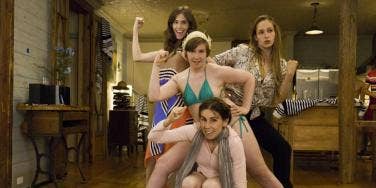 When your bestie is also kind of your enemy.
Not all friendships are exactly healthy just like not all romantic relationships are healthy. Sometimes you end up accepting terrible treatment from your friends because you've known them forever. But in the end, interacting with toxic friends can really wear on you.
Before movies and TV shows only focused on mean girls who picked on less intimidating girls they weren't friends with. Thanks to Mean Girls, mediums are now showing that many women's enemies run in their social group making life a lot more complicated.
Girls often shows women (and a few men) in this specific situation. Yes, they have their good moments together but most of the time they are bickering and telling each other how horrible they are to each other. Many of them are in a point in their lives where they can be selfish, but that definitely ends up backfiring on their relationships with each other.
Hannah and Marnie might be the guiltiest of them all when it comes to selfishness. Marnie ends up sleeping with the Hannah's ex-boyfriend. Hannah usually ends up judging everyone else when she finally takes time to actually listen to him or her. But they are still very much frenemies.
In need of some best friend quotes that truly sum up of your frenemy relationship? Here are 10 of them from the best dysfunctional group of friends on television.
If you're searching for the best quotes and memes to share with the people you love (or just want to feel inspired yourself) ... look no further! From the sweetest love quotes, inspirational sayings, and hilarious relationship truths, we've got you covered.
Photo: Tumblr
1.
"You judge everyone, yet you ask them not to judge you!"
Photo: Tumblr
9.
"I don't like women telling other women what to do or how to do it or when to do it."
Photo: Pinterest
8.
"That's not what makes someone a good or a bad friend. What makes you a good friend is not doing something you know will intentionally really hurt another person. And you did that."
Photo: Pinterest
7.
"You're like Bella Swan from Twilight and I'm like, her weird friend who doesn't understand how fabulous your life is being my boyfriend won't spend four dollars on tacos."
Photo: Tumblr
6.
"Don't waste time on guilt, Hannah. Holding on to toxic relationships is what keeps us from growing. You're forming every time you shed a layer – getting closer to yourself"
Photo: Tumblr
5.
"And you know, prove to everyone via Instagram that we can still have fun as a group!"
Photo: Tumblr
4.
"You're being unfair. You can't force me to be a lady."
Photo: Tumblr
3.
"It was nice to see you. Your dad is day."
Photo: Pinterest
2.
"I don't hate your friends I'm just not interest in anything they have to say."
Photo: Tumblr
10.
"There are certain people who are meant to remain in your past. I made a mistake trying to repurpose you."
Photo: Pinterest
Previous
Next
BEGIN