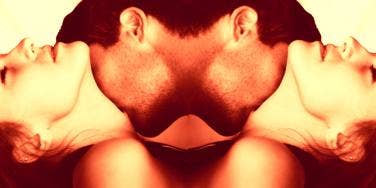 THESE are the fragrances that really make men drool.
Don't know what kind of perfume to wear tonight? Well, know this much: Skip the musk! Because it is super sweet scents like baked goods, candy, chocolate and fruit that REALLY make men drool. No wonder he thinks that sweet perfume of yours is sexy—it's science!
The Smell and Taste Treatment and Research Foundation sniffed out the specific smells that attract men most. The surprising finding? It wasn't just perfume that these guys loved. It was the scent of some common yummy foods that got the guys aroused the most. We're talking about everything from chocolate to doughnuts to pumpkin pie and even—shocking!—a flower. Guys love it when you smell sweet and delicious.
Don't feel like rubbing pastries all over your body to get him going? Good news! There are plenty of perfumes that make the most of the scents guys crave. We're not kidding. There is a perfume or body spray for every sweet scent on the list, and we have all the information you need compiled in this slideshow. Take a scroll through it to find out what your guy craves!
Here are the 7 scents that got guys going and (bonus!) where to find them in the perfume aisle:
Photo: WeHeartIt
1. Vanilla
1. The Scent: Vanilla
It's long been believed that vanilla is a natural aphrodisiac: as early as the 1700s, physicians recommended it to male patients to ensure potency. And the guys at AskMen.com say the sweet, welcoming odor has a euphoric effect that sets the sensual mood.
The Perfume: Shalimar By Guerlain
This powdery vanilla scent is sexy and all woman, not candy-sweet. Inspired by the love of an Indian Emperor for his wife (for whom the Taj Mahal was built), this delicious fragrance starts fresh and light, with lemon and bergamot, and reveals itself to be sensual and soft, with base notes of vanilla and incense.
Photo: iStock
2. Doughnut And Black Licorice
2. The Scent: Doughnut & Black Licorice
This sweet combination increased arousal in more than 30 percent of men studied by the Smell and Taste Treatment and Research Foundation. We don't blame them: we have a complicated relationship with Krispy Kreme too.
The Perfume: Dementer Fragrance Library's Licorice
This library of singular scents (everything from fresh laundry to Hello Kitty-inspired fragrances) has something for everyone, including your guy. Not sure you want to douse yourself in licorice? Lather up with the licorice bath & shower gel, or add a few drops of the Angel Food bath oil to your next bubble bath. Combined with your favorite perfume, the subtle smell will drive him crazy.
Photo: iStock
3. Pumpkin Pie
3. The Scent: Pumpkin Pie
The scent of pumpkin pie (especially when combined with the smell of lavender) increased arousal in 40 percent of men. The Foundation theorized that the men in their study may have reacted to the vanilla and cinnamon in the pumpkin pie, both of which have been claimed to have aphrodisiac qualities.
The Perfume: Bath & Body Works Sweet Cinnamon Pumpkin
This sweet and spicy collection includes shower gel, body lotion and a body splash, and combines pumpkin and cinnamon with apple, cranberry and clove, for a subtle, light scent that's sexy, not Thanksgiving.
Photo: iStock
4. Orange
4. The Scent: Orange
The citrus smell produced an arousal reaction in almost 20 percent of men.
The Perfume: Boss Orange
This scent from Hugo Boss, presented by it girl Sienna Miller, will have his senses tingling,with top notes of sweet apple and soft florals that give way to orange blossom. The base includes sandalwood, olive wood and creamy vanilla, another male favorite.
Photo: iStock
5. Popcorn
5. The Scent: Popcorn
That's right. Movie night just got a whole lot sexier! Turns out, men are incredibly turned on by the scent our favorite salty and crunchy snack. Maybe pick a movie you don't actually want to see? You might be distracted ...
The Perfume: Dementer Fragrance Library's Popcorn
And we're back with another unique singular note from Dementer Fragrance Library. This one literally smells like popcorn. Get ready to bring movie night to the bedroom (or anywhere!).
Photo: iStock
6. Chocolate
6. The Scent: Chocolate
Calling all chocoholics! Of course chocolate is on the list. Men LOVE chocolate! Drive him wild by actually SMELLING like it.
The Perfume: Serendipity 3 Serendipitous
Famed NYC restaurant, Serendipity 3's answer to perfume. Forget about eating the frozen hot chocolate ... why not WEAR it? This perfume has some serious chocolate notes with hints of vanilla and orange (both of which are also arousing fragrances!). If he's a chocoholic, he'll be all over this.
Photo: iStock
7. Lily Of The Valley
7. The Scent: Lily Of The Valley
Finally, the guys responded to a scent that doesn't come from the kitchen. The delicate white flower gives off a light, subtle scent that men love: in this study, it heightened arousal in 11 percent of men.
The Perfume: Eternity Summer By Calvin Klein
This is a watery floral scent that's cool and fresh. Lily of the Valley combines with pink peony and freesia for a subtle floral he won't be able to resist. Creamy musk and white amber lend some sex appeal to the scent, and grapefruit and ginger keep it fresh, not overwhelming.
Photo: iStock
Previous
Next
BEGIN