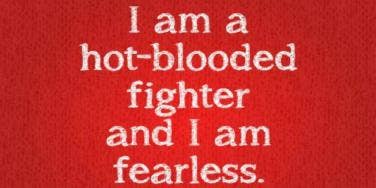 Dare ya not to LOL.
There are many female comedians that are showing their own perspectives on television today. There's Abbi Jacobson and Ilana Glazer of Broad City; Mindy Kaling of The Mindy Project; and Lennon Parham and Jessica St. Clair of Playing House to name a few. It's definitely refreshing since men have been dominating the comedy scene for so long.
Amy Schumer is one of those comedians that headline her own show, Inside Amy Schumer. And we love her for it! Many of the sketches have so much truth in them while being funny. Some of them are so true it's uncomfortable. I mean have you seen her "A Very Realistic Military Game" sketch? If not it's a must see. There is no doubt that Amy brings feminist points up in a brave way.
The comedian is definitely known for being raunchy and toeing the line of controversy. Part of that has to do with the fact she's not afraid to show the unflattering sides of being a woman. But she should also be recognized for being a smart and powerful person.
So are you in need of a few more quotes from strong ladies to add to your collection? Or are you looking for a few funny jokes about life that most women can relate to?
Here are 10 Amy Schumer quotes that are inspiring and funny. (Go ahead, quote her!)
If you're searching for the best quotes and memes to share with the people you love (or just want to feel inspired yourself) ... look no further! From the sweetest love quotes, inspirational sayings, and hilarious relationship truths, we've got you covered.
1.
"If I say I'm beautiful. I say I'm strong. You will not determine my story—I will."
Photo: We Heart It
2.
"Unless something is done and done soon, dangerous people will continue to get their hands on guns. We need a background check system without holes and fatal flaws."
3.
"I will speak and share and f*** and love and I will never apologize to the frightened millions who resent that they never had it in them to do it."
Photo: Tumblr
4.
"A woman's life is worth nothing unless she's making a great man greater."
Photo: Pinterest
5. Amy's Brilliant Parody of "The Newsroom"
"Don't text him photos of yourself…without hiring a pro photographer!"
Photo: Pinterest
6.
"All my friends are getting married. I guess I'm just at that age where people give up."
Photo: Tumblr
7.
"This is not an exercise class. This is a funeral for the fat you."
Photo: Tumblr
8.
"People are f***ing filthy and dirty, and women don't need to pretend they're not anymore."
Photo: Said No Woman Ever
9.
"Nothing good ever happens in a blackout. I've never woken up and been like, 'what is this Pilates mat doing out?'"
Photo: Pinterest
10.
"Some guys, they wanna sleep with a girl that's like, a skeleton wrapped in plastic. That's fine if that's what you want. But I'm gonna keep eating and showering infrequently."
Photo: Pinterest
11.
"I am a hot-blooded fighter and I am fearless."
Photo: Pinterest
Previous
Next
BEGIN