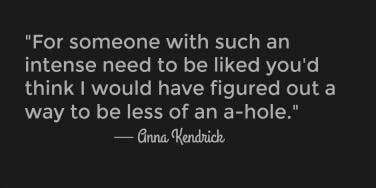 GET OUT OF MY HEAD!!!
If you don't follow actress/singer Anna Kendrick in life, or at least on Twitter, you are making a mistake. (We WISH we knew her in real life. I mean COME ON!)
She's like that best friend who always knows exactly the right thing to say at the exact right time. And she knows just how to make you laugh. She tweets what I am thinking before I think it.
In short: SHE IS THE BEST. EVER. End of story.
Anyway, I've liked Anna Kendrick for a while now (although, I just found out some people are not fans, I really do hope this article and these quotes change that, because I just cannot comprehend why they wouldn't be).
For me it was that moment I saw Pitch Perfect for the first time and I thought to myself, "Who is this fabulous human being?"
I mean, who can deny her intoxicating voice? Her quirky personality? Her infectious smile?
Yes, I am aware she has been around since starring alongside Mr. Amal Alamuddin in Up In The Air back in 2009, but Pitch Perfect really brought her and her comedic talent to life.
She's also starred in Into The Woods, which is really only good when she or Meryl Streep are onscreen, but it's worth seeing (even if you wait to catch it on Netflix).
I mean, heck, she's a Tony and Oscar nominee. And she's obsessed with Taco Bell, apparently. And she loves Lord of the Rings. She's the every day woman.
If you're not in love with her already, these Anna Kendrick quotes are sure to convince of her absolute amazingness. Because, honestly, she's nothing short of amazing. And hilariously funny.
So enjoy some Anna Kendrick quotes straight from the lady herself. And bask in her awesomeness.
If you're searching for the best quotes and memes to share with the people you love (or just want to feel inspired yourself) ... look no further! From the sweetest love quotes, inspirational sayings, and hilarious relationship truths, we've got you covered.
Sorry not sorry.
"You're probably right," means "You're wrong, I just don't want to seem like a dick about it." — Anna Kendrick
Admittedly rather confusing.
Watching a grown woman play an adolescent boy is perhaps the most sexually confusing moment of my life. #PeterPanLive — Anna Kendrick
I'm not Julia Child, k? BACK OFF.
F**k you, recipes that list something chopped, covered in olive oil, and baked for 20 minutes an 'ingredient.' I am not Wonder Woman. — Anna Kendrick
People like assholes, Anna. No worries.
For someone with such an intense need to be liked you'd think I would have figured out a way to be less of an a-hole. — Anna Kendrick
Nah. Stay home. We all do it.
Sometimes the only reason I leave my house is so when someone asks about my day I don't have to say "Netflix and avoiding responsibilities. — Anna Kendrick
What a DRAG.
Oh God. I just realized I'm stuck with me my whole life. — Anna Kendrick
Seriously, that HAS to be weird. (And you're welcome.)
Every time "Kendrick" is trending I get worried I'm in a Ghost situation and this is how I find out I'm dead. — Anna Kendrick
Who has time to read all that?
Hey. People who follow over 1,000 people on twitter. Explain yourselves. — Anna Kendrick
You're not really hearing me at all, are you?
'I'm hearing you' is code for 'I don't care, but I want this conversation to be over' — Anna Kendrick
Right.
If the frosting has cream cheese, it counts as breakfast, right? — Anna Kendrick
Why do you care?
People who care about celebrity babies are creepy. 'What will her baby look like?!' A baby. You've seen a baby, right? It'll look like that. — Anna Kendrick
What's yours?
My Patronus is a corgi. — Anna Kendrick
It's SO true.
The scent wafting out of Abercrombie stores is a f**king day ruiner. How did they manage to bottle the smell of high school and rejection? — Anna Kendrick
Let's do everyone a favor.
If I die unexpectedly, can everyone just do the right thing and pretend I was a way better person than I am? — Anna Kendrick
The new heartthrob.
A man fixing your computer is the new chopping firewood; makes a lady feel safe and warm. #swoon — Anna Kendrick
So much PRESSURE.
It still blows my mind that I'm at an age where if I got pregnant people would be happy for me. #yikes #babies — Anna Kendrick
There HAS to be.
So, there's NO existing service that rents puppies to people with hangovers? America, you have failed me. — Anna Kendrick
DOWN with V-day!
Can we drop the pretense of 'President's Day' and just call it 'I needed a long weekend because Valentine's Day is garbage.'? — Anna Kendrick
Who likes sushi anyway? Oh all of you? Pssht.
I'm done being embarrassed about my boring taste in sushi. If it looks like it killed Nemo's mom, I'm not eating it. — Anna Kendrick
Just in case, you know?
Sometimes I feel like I could pull off the perfect murder. I'm not saying I would… but I think I could. — Anna Kendrick
Previous
Next
BEGIN