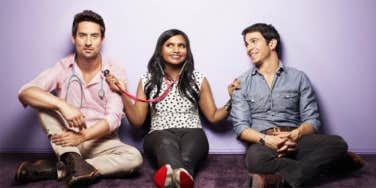 Everything you need to know about Mindy Lahiri and the OBGYN gang.
There's no new episode of The Mindy Project this week, because FOX likes to torture us and make us wait and on top of that we never know when the last time we will see Peter is. It's a double-edged sword really, because we want more episodes but we also want more Adam Pally. At least we can pretend he's not leaving us.
The Mindy Project has been going on for three seasons now and hopefully many more to come, especially because Mindy Lahiri has become our spirit animal. Even though we don't want to admit that we want our life to be like a giant rom com, we all secretly hope that it magically turns out that way (at least Mindy owns her unrealistic lifestyle).
Things are heating up between Danny Castellano and Mindy Lahiri, but according to the synopsis of the upcoming episode airing on Feb. 3, Mindy is about to get offered the chance to start her own practice. At the same time Danny is about to show Mindy a brownstone he wants to buy for the two of them. We can't even handle the suspense. The Mindy Project returns in two weeks, but until then, here are 12 things you probably didn't know about Mindy and the cast:
1. The hospital
Some of the shots they use of St. Brendan's Medical Center are shot of Hahnemann University Hospital in Philadelphia, even though the fictional practice is based in New York.
2. It's almost all Los Angeles!
In fact, Kaling told Elle that they have never shot a scene in New York. Everything is filmed on a stage in Los Angeles.
3. You've Got Mail guest
Next time you watch You've Got Mail, be sure to look out for Danny Castellano. He's got a small role in the classic rom com!
4. Mindy's mom
Mindy Kaling's late mother was also an OBGYN from Massachusetts in real life, just like Kaling's character. Although, it may draw from her past Mindy has said that their personalities are nothing alike. Also a strange coincidence, the show was greenlit the same day her mom passed away.
6. Morgan worked in transit
Before his comedy career took off Ike Barinholtz (Morgan) worked in the Chicago Transit Authority. Even after he came to Los Angeles he was a busboy for awhile.
7. Crossovers
Many guest stars you've seen are from The Office. Since Kaling was a star and a writer of the show she is still friends with many of the people who come on like ex-boyfriend IRL B.J. Novak, Ellie Kemper, Anna Camp, Beth Grant and Zoe Jarman.
8. Peggy
Kaling once told Elle that even though she doesn't mind using her name on the show, but the creator of Malcolm In The Middle once warned her never to use her real name when ordering food because if they don't like the food they might spit in it. So she uses the alias of Peggy from Mad Men.
9. Adam Pally
Even though he's leaving the show (so depressing), you may have seen Adam Pally before on the show Happy Endings with Damon Wayans Jr. When the show ended, Pally went to Mindy Project and Wayans rejoined the cast of New Girl as Coach.
10. It's Messy
In 2012 when the pilot was still floating around between the studios, the show was titled It's Messy, however when FOX ordered the show they thankfully changed the name.
11. India programming
The show airs on Comedy Central India.
12. Allison Williams
It was a while ago, but Marnie from Girls actually played Danny's girlfriend for a few episodes. In one of the episodes, Mindy and Danny talk about news anchor Brian Williams, who Danny says he dislikes. Williams is Allison's real life father.
Previous
Next
BEGIN