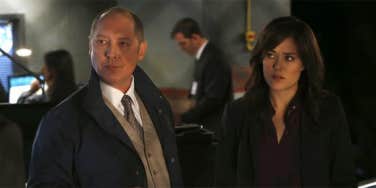 James Spader kind of makes you wish you had a criminal father.
It's just two weeks until The Blacklist comes back on Feb. 1. While many people are anxiously awaiting the Super Bowl, you are crazy obsessed with the return of James Spader and Elizabeth Keen. Who could blame you though? There are criminals, blacklists, secret task forces and basically all the other ingredients you need to make the world's most perfect show. Before the return, lets see an update of where we left off.
Warning: There are spoilers ahead. Don't get mad at me when you continue.
We left off in a very interesting place. Elizabeth has let Tom go, Berlin is dead and Alan Fitch was also blown up. The most important part of the episode, of course, happened in the last 30 seconds when Tom and Red met up and Red handed him an envelope. Tom says something like, "For what it's worth I was down there for four months and didn't say anything about you and I." Um, what!? Red then says that he is never to see Lizzy again. Okay, first of all, we need Tom Keen in our lives whether he's a bad guy or not because James Spader is not eye candy, and second, we've been waiting since November for an answer. Until Feb. 1 comes, here are 14 signs you may be obsessed with The Blacklist:
1. Hooked
After the first episode you couldn't even handle it. So your friends didn't see you for the four days it took you to watch the whole first season.
2. James Spader
… Is everything. The end.
3. People are following you.
Yeah, after watching the show you're convinced you're being followed.
4. Tom Keen
You sobbed when you found out he was working for Berlin.
5. Seriously, not enough Tom!
Okay, so he's a bad guy? You have no idea why, but you are still super obsessed with him and need him in your life.
6. Elizabeth's dad!
Okay, we needed confirmation that Red is Lizzy's dad.
7. Harold Cooper
You just know he's some kind of mass criminal. It's coming.
8. Ressler
You hated him, but now you kind of love him. If Tom and Elizabeth can't work it out, maybe there needs to be a Keen Ressler hook up.
9. Mind. Blown.
Every time Red is behind everything you can't even handle how amazing and on top of his s—t he is.
10. Aram
Any time Aram pops up you just hope he finds love because he's adorable.
11. FBI
Your dream job is to join a special task force in the FBI. Your life would be way more exciting with a blacklist.
12. Red Rant
Any time Red is on the verge of death or killing someone and he goes into a random story about vacationing and how beautiful it was … well that's second nature to you now. Classic Red.
13. After every episode
You have a million unanswered questions, thus furthering your obsession.
14. Your patience is wearing thin!
You can hardly wait till Feb. 1 because you need to know what the eff Tom and Red were doing together. Therefore, here is another picture of Tom.
Previous
Next
BEGIN