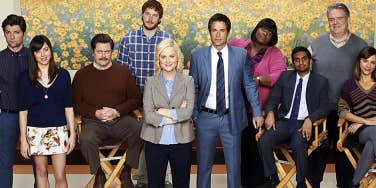 You have a problem and that problem is you literally cannot even live without Parks and Recreation.
You can hear the theme song in your head, Ron Swanson's voice makes you feel calm and you don't even need to be watching the TV to know exactly what is happening. These are a few signs that you have an addiction to Leslie Knope, the parks department and everything else that goes along with Pawnee, Indiana. The farewell season of Parks and Recreation is here and you probably can't even handle the idea of saying goodbye to Andy, April, Donna and everyone else.
If you're anything like us, you've been avoiding the fact that it's all coming to an end by watching re-runs on Netflix and by drowning your sorrows in maple syrup and waffles. Luckily, tonight we have everyone back (minus Chris and Ann) for a whole season, and we get two episodes every week.
Savor it while you can, though, because who knows where Terry/Jerry/Gary will be at the end of this? (What if we finally get to see how Gale and Jerry met?!) Until we officially have to say good-bye we have put together a list of symptoms that occur when you have a serious addiction to Parks and Recreation.
Here are 18 signs that Leslie Knope and Ron Swanson are literally the only people you care about in this world:
1. Your reaction to the farewell season is ...
2. Holidays. All the time.
Your friends are tired of you making up random holidays. Sorry, first time you saw Parks and Rec while eating breakfast is not a holiday (although, it should be).
3. Pawnee, Indiana sounds great.
Who cares about the raccoons or councilman Jamm? You've considered moving to a small town in Indiana in hopes of finding your own Tom Haverford.
4. Tammy
If you ever encounter a Tammy, you run.
5. Galentine's Day
You always celebrate Galentine's day with your girls on Feb. 13 without fail no matter how over it your girlfriends are.
6. Donna Meagle
You dream of having the dating game of Donna Meagle because she only gets the finest men.
7. Jerry
There is a Jerry at your office and you call him Jerry, but he doesn't understand, which makes it even better.
8. You started talking like Chris Traeger
You would like water. You would like it in a glass. And you would like ice. Because that is literally the greatest drink in the world.
9. Mouse Rat
You're kind of like a groupie for a fictional band considering you know all the lyrics to 5,000 Candles in The Wind, The Pit and of course, Sex Hair.
10. Little Sebastian
You get it. He's an angel and mini-horses have become your spirit animal and it infuriates you when people don't understand.
11. Town Meetings
Ever since the show started you've been at town meetings hoping that they are remotely like the Pawnee town meetings.
12. Ben Wyatt…
…Is your dream man. You called dibs.
13. Your diet
Consists mainly of breakfast foods. Specifically waffles and bacon.
14. DJ Rumba
You have made your own DJ Rumba. Because Tom Haverford's ideas are always amazing.
15. Ron Swanson's mustache
Makes all other men with mustaches look like little boys.
16. Andy & April
Is your vision of what a perfect couple is supposed to look like (Chris Pratt only helps that image).
17. Your Alter-ego
Burt Macklin has nothing on you. You live by your alter-ego.
18. You've cried over the cancellation
You have. You can't help it. The thought of Parks and Recreation ending has pushed you into a deep depression.
Previous
Next
BEGIN