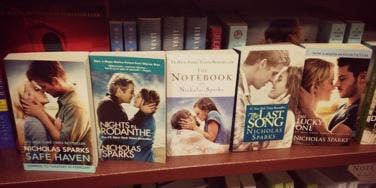 Oh Nicholas Sparks, please know that we are wishing you well!
It's a sad day for romance movie and novel enthusiasts because the reigning king of the genre has bad news! Prepare yourselves, Nicholas Sparks fans because this would change things.
Nicholas and his wife, Cathy have announced their separation. After being married for 25 years and inspiring his many romantic novels including "The Notebook", "A Walk to Remember", and "The Longest Ride".
"Cathy and I have separated," revealed the writer to PEOPLE magazine. "This is, of course, not a decision we've made lightly. We remain close friends with deep respect for each other and love for our children. For our children's sake, we regard this as a private matter."
Of course we hope that they get through this process and come out in a better place. We need Nicholas to come back and be able to write more love stories. So what should he do in order to recover? When I'm feeling heartbreak I have to admit that I might turn to The Notebook. It's just so beautiful and gives you hope.
We gathered 13 of Nicholas Sparks' best love quotes that might bring him some comfort— just like how they have done for us.
If you're searching for the best quotes and memes to share with the people you love (or just want to feel inspired yourself) ... look no further! From the sweetest love quotes, inspirational sayings, and hilarious relationship truths, we've got you covered.
Photo: We Heart It
1.
"Sometimes you have to be apart from people you love, but that doesn't make you love them any less. Sometimes you love them more."
Photo: Pinterest
12.
"Just when you think it can't get any worse, it can. And just when you think it can't get any better, it can."
Photo: Pinterest
11.
"Sometimes, finding the light means you must past though the deepest darkness."
Photo: Pinterest
10.
"Be wary of who you pretend to be, you might forget who you really are."
Photo: Pinterest
9.
"It's the possibility that keeps me going, not the guarantee."
Photo: Pinterest
8.
"We're not perfect. Any of us. We make mistakes, we screw up but then we forgive and move forward."
Photo: Pinterest
7.
"If we'd never met, I think I would have known my life wasn't complete. And I would have wanderd the world in search of you, even if I didn't know who I was looking for."
Photo: Pinterest
6.
"I love you. I am who I am because of you. You are every reason, every hope, and every dream I've ever had, and no matter what happens to us in the future, every day we are together is the greatest day of my life. I will always be yours."
Photo: Pinterest
5.
"Always listen to your heart, because even though it's on your left side, it's always right."
Photo: Pinterest
4.
"Without suffering, there'd be no compassion."
Photo: Pinterest
3.
"People come, people go—they'll drift in and out of your life, almost like characters in a favorite book. When you finally close the cover, the characters have told their story and you start up again with another book, complete with new characters and adventures."
Photo: We Heart It
2.
"I'll always miss her. But our love is like the wind. I can't see it...but I can feel it."
Photo: Pinterest
13.
"Nothing that's worthwhile is ever easy. Remember that."
Photo: Pinterest
Previous
Next
BEGIN