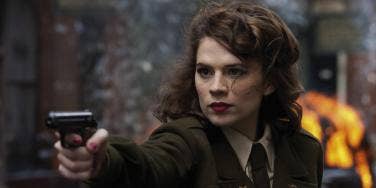 Take note, Hollywood: There's nothing sexier than a strong woman who can kick ass.
You know what's lame? When you're watching a sweet action movie that you love so far, and everything's going well, stuff is blowing up, and then the finale ends up being nothing more than the hero saving a damsel in distress. It's so common, and it's so boring. The damsel in distress story is just so trite at this point.
It's refreshing when a movie or television decides to use female characters as actual people. Instead of simply using women as a plot device to get hero to go blow some stuff up, they'll include the woman in the action or even make her the focus of the action. Hollywood seems to be afraid of women starring in action roles, but there are a ton of great examples of women who kick ass and take names. Some of the most memorable action stars have been women, so just let it happen, Hollywood. Here's a list of women who don't need men to save them. And note: It was tough to narrow this one down to 10!
10. Black Widow
When Iron Man bragged about how great the Avengers were because they have a Hulk, he also could have said "Black Widow." In all honesty, she's the one who closed the portal and got Hulk to work with them to begin with. Plus, really, all Hulk did was punch a bunch of stuff.
Photo: IMDB
2. Starbuck
When the Cylons wiped out 99% of the human population, Starbuck helped save the survivors. She was the best pilot in the fleet, and she also might have been an angel? I dunno. Battlestar Galactica got confusing towards the end.
Photo: IMDB
3. Sarah Connor
In the first Terminator, Sarah Connor was the definition of damsel in distress. By the time of the second movie, she had become a completely different person. Being hunted my gigantic killer robots will do that to you.
Photo: IMDB
4. Ellen Ripley
In space, no one can hear you scream. Especially after Ellen Ripley kicks you in the nuts and takes charge of the squad of Marines you're leading. If you ever run into deadly space aliens, it's better to have Ripley with you than an entire squad of space Marines.
Photo: IMDB
5. Agent Peggy Carter
Steve Rogers became Captain America after being injected with the super soldier serum. Peggy Carter never got injected with a serum, but she didn't really need it. If Agent Carter had been injected, then she probably would've been turned into a giant, flying fist or something.
Photo: IMDB
6. Princess Leia
In the original Star Wars, Princess Leia was originally introduced as the damsel in distress that needed to rescued. Then, when the heroes tried to rescue her, she ended up saving them. Then she saved everyone a few more times. All that and she was actually a princess.
Photo: IMDB
7. Katniss Everdeen
The Hunger Games is a deathmatch where teenagers have to fight to the death. Last man standing wins. Then Katniss Everdeen volunteered to enter the games, and ended up winning the whole thing. She killed someone with bees. BEES!
Photo: IMDB
8. Hit Girl
Usually, kids don't get to be action heroes. Hit Girl wasn't even in high school yet before she started taking down the Mafia.
Photo: IMDB
9. Buffy the Vampire Slayer
Buffy was so independent that not only did she not need her boyfriend to save her, she ended up sending him to Hell when he went bad. She felt bad about doing it, but she got over it pretty quickly.
Photo: IMDB
1. Xena, Warrior Princess
Back in the '90s, Xena was the female version of Hercules. She also had a bladed frisbee thing that she used, which was a skill that Hercules didn't have. So, she's the better version.
Photo: IMDB
Previous
Next
BEGIN