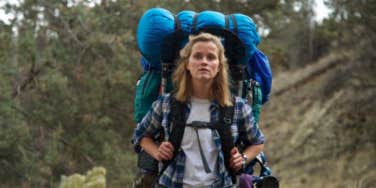 Reese Witherspoon and Laura Dern drop serious knowledge in 'Wild.'
Reese Witherspoon was nominated for Best Actress in the 2015 Oscars for her portrayal of Cheryl Strayed in her newest movie, Wild. Wild is a true story, based off the book of the same name, about a 26-year-old girl who hikes 1,200 miles (about three months) on the Pacific Crest Trail alone
When Strayed was 22, her mother passed away and she pretty much lost it. She started sleeping around and cheating on her husband with anyone and everyone, which led to their inevitable divorce. She then met a guy who got her into heroin for a bit. Finally, she decides to head out and hike from the southern part of California to the Bridge of Gods in Oregon, and that's where the story begins.
Basically, Cheryl Strayed is a badass because even as I sit here on the couch writing this, I know that I would never be able to leave my life behind to do that. While Witherspoon proved that she is in fact an amazing actress in the movie, there is only so much of the book that they can add into the movie, which is why you should really take the time to read the book if you can. Nothing compares to reading Cheryl Strayed's actual words about her journey and the relationships that she forms with the people she meets along the trail.
Here are 10 life and love lessons that you can take away from Wild:
1. You complete yourself.
You don't need someone else to feel complete, because you are the only person that can truly make yourself feel whole. While cheesy, it's the most important love lesson Cheryl Strayed teaches.
Credit: IMDB
2. Never give up.
Because when you get to the finish line, it's the best feeling in the world.
Credit: IMDB
3. The right size boots are everything.
Seriously though, before you hike make sure you have the right size boots, because toenails are super important.
Credit: IMDB
4. Trust your instincts.
Especially when it comes to people, it's okay to trust people, but also keep your guard up a little bit because your gut is normally right.
Credit: IMDB
5. Be rich in love.
Cheryl grew up in poverty, but her mother used to say that they were "rich in love" which is all you need. That and a large pizza.
Credit: IMDB
6. You never know when you'll need condoms.
Okay, so you don't need a whole roll when you're hiking the PCT, but keeping one is a good omen.
Credit: IMDB
7. Always be in the driver's seat of your life.
Cheryl Strayed's mom Bobbi learned that lesson the hard way. She was someones wife, someones mom, but she regretted never being in control of her own life.
Credit: IMDB
8. Find your best self.
Whether you have to hike 1,200 miles or write a novel or whatever it is you need, find it. Stop regretting things in the past because it got you to where you are now.
Credit: IMDB
9. Sometimes the one you love isn't the one.
Cheryl and her ex remain close throughout the movie. Even though they were in love when they split, they recognized they shouldn't be together.
Credit: IMDB
10. Life is an adventure.
Be spontaneous and wild and keep going no matter how shitty things get. Wallowing will get you no where, and if necessary leave that shitty life behind and find something better.
Credit: IMDB
Previous
Next
BEGIN