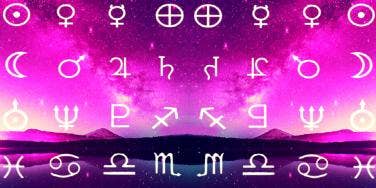 Let's kick off the New Year with a little love advice!
Welcome to YourTango's monthly love horoscope column from astrologer Ellen Whitehurst! Look up your sign to see what the month of January has in store for you in the romance department.
Ellen's predictions can guide you through the month of January and help you live a better love life. And isn't that what we all want? Of course it is. Everyone wants a strong, successful love life. We all want to enjoy a life that is rich in love and prosperity. And Ellen's horoscopes can bring you one step closer to forming such a wonderful life.
Are you a water sign, or a fire sign? Earth or air? Don't know your sign? We're one step ahead of you. Just look for your birthday in the date ranges below each slide! Then read up on what the new year has in store for you, and get out there to live and love.
Come back next month for February's fabulous love horoscopes. And Happy New Year!
Curious what else is in store for you? Ellen is serving up love and fortune-filled predictions on her website. You're welcome!
Please note: the predictions provided here follow Western astrological dates.
Photo: WeHeartIt
Aires, The Ram
You might find that your love life is taking a back seat to situations around the house, at least until January 4, as the Full Moon in domestic Cancer lights up your 4th House of Home and Family. Just go ahead and put romance and passion on hold for a few days (or weeks) but the end result will be way worth your while. Oh, did I mention that this month's Full Moon will make any efforts on the romantic front worth your while? Yup!
Taurus, The Bull
Boy, oh boy, are you going to love the start of this year. After January 3 you will have Venus, the Goddess of love herself ready for romance and for partying in Aquarius. Now, remember that Venus is your ruling planet, so get ready for unusual new admirers and suitors to surround you night and day. Even if you are already spoken for, what you hear now will make your heart go pitter-patter—like I said, a great way to start the New Year.
Gemini, The Twins
Lovely and loving Venus, the Goddess of All Things Amour, will be spending the majority of this month in quirky and unpredictable Aquarius while partying hard in your 9th House of Travel and Long-Distance relationships as well as far off places and BIG ideas (and possibly even some big passion too!). Woo hoo! If you get the chance, go for a short and spontaneous trip on January 13 or 14. Winner take ALL! Or at least, gets to take you to bed.
Cancer, The Crab
The Sun will shine on your 7th House of 1-on-1 Relationships (and Partnerships, too) until January 20 and that's a really hot way to start this year. This particular Sun will also be skipping hand-in-hand with commitment-oriented Capricorn for the duration of this month, so expect to see some sort of relationship getting serious, especially if you've been involved with a commitment-phobe. You might just be shocked that they are finally coming around. That will make this January the start of a very happy New Year.
Leo, The Lion
The bright and beautiful Full Moon in Cancer that rises on January 4 will lighten and brighten your 12th House of Privacy and Secrets too. If you have been been working on something behind the scenes, expect to see your efforts come to fruition. On the flip side, if you've been doing anything that you don't want the rest of the world to know about, then if I were you, I would cut it out now. The great news is that Venus, the Goddess of Love will be dancing under the Aquarian moonlight and moving excellent energies into your 7th House of Relationships and Romance starting on January 3—a very LOVE-ly way to start this New Year.
Virgo, The Maiden
You are starting to get very serious about what you want in a partner and/or significant other. You want to be with someone who is practical and organized, self-sufficient with a touch of magic about them as well. This month, as lovely and loving Venus passes through quirky Aquarius you might find yourself lightening up and loosening all those strict qualities that you require in that special someone. I suspect that you're going to fall hook, line and sinker for someone way more scattered than you, but this person will add a different and interesting side to your love life. Go for it. You'll be glad that you did.
Libra, The Scales
DING! DING! DING! You win the romance and true love most beautiful energies of this month! You will have Venus, the Goddess of Love spending the majority of this month in your 5th House of Lovers (Pleasure, Passion, Creativity, true love, joy and fun—and so much more creamy goodness too). If you are somehow still single, you probably won't be by month's end. This time out though, you might be surprised by the variety of admirers hanging around you, but, you know what they say—variety IS the spice of life. Your love life is about to get really spicy!
Scorpio, The Scorpion
Your love life is about to heat up in a hot, hot, hot way. On January 12 sizzling Mars will enter your 5th House of Lovers urging and encouraging you to make a move in one of your significant relationships. Making any sort of move forward now will solidify something really special but sitting still will watch this special someone just disappear into the ethers. Step up, step out and get what you want. Believe me, whoever it is wants you, too!
Sagittarius, The Centaur Archer
The sparkling New Moon in Aquarius that rises on January 20 will add some oomph to your 3rd House of Communications poking and prodding you to speak your mind without regret. This opportunity will allow you to build your courage and your confidence which could be very attractive to someone who loves those qualities in a significant other. Cut loose and say what you mean and mean what you say. That openness could attract an admirer who is attracted to and truly appreciates your bluntness.
Capricorn, The Sea Goat
You simply couldn't ask for a better relationship start to this New Year. The Full Moon that rises on January 4 will light up your 7th House of Relationships and Romance possibly pushing you to finally commit to some sort of partnership. This could be the year/the month that you decide to settle down or might be the one when you find that special someone to spend the rest of your Happily Ever After with. Get out and about and see who sticks to you like glue. Believe me when I say that they will do that forever and ever, amen.
Aquarius, The Water-Bearer
The bright and brilliant New Moon that rises on January 20 will occur in your sign and in your 1st House of Personality, Appearance and Self. This New Moon will illuminate some major new beginnings for you in a host of different (and wonderful) ways. One of them will be an entirely new method of expressing yourself while a new wardrobe and adjustments to both inner and outer you will attract an audience to you like moths to a flame. It's a BIG month of BIG changes and, well, what better way to start a brand New Year? Good for you! Literally.
Pisces, The Fish
Lucky, lucky, loving you! Venus, Goddess of All Things Romance and Love will enter your sign on January 27, which could portend you securing a partner who is either a current sweetie pie or finding someone new who tickles your fancy who will be faithful and reliable, too. That said, you will have a smorgasboard of suitors that will keep you occupied and thinking about how much fun it could be to date more than one of these lovers and/or friends. No matter how you slice it or dice it, you will be a romance magnet this month—an attractive audience who will be filled with opportunities and urges to indulge in. It's a month of plentiful pleasures. I LOVE that you start your year this way!
Previous
Next
BEGIN