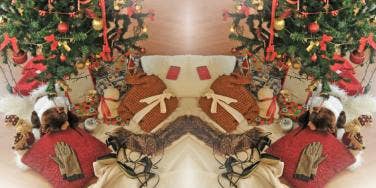 One option? Host a gift swap happy hour!
It's easy to feel like a bad person when we don't want a present we were given in the spirit of the season. Wouldn't it just be so much easier if we loved it?
However, none of us have tons of space for things we do not need or want, and it helps no one to use "but it was a gift" as an excuse to hold on to anything you don't need, use, or love. Doing so will only create clutter in your home or life—and that's a really non-feng-shui way to start a new year!
If you don't like the gift, accept the love and joy the gift-giver intended to come with said gift, write a lovely thank you note and then send the gift along its merry little way out of your house.
Letting go of things you don't need or love has zero reflection on your feelings towards the gift giver, so let that gift go guilt-free, says Melinda Massie, owner of Organizing with a Side of Fabulous, a professional home organization company based in Fort Worth, TX.
Here are nine creative (and easy!) things to do with those Christmas gifts you can't return.
1. Try for store credit
Try for store credit
Sometimes a store credit or exchange will be allowed, even if a return will not. Take advantage of store credit to get something you actually want! Try to return as soon as possible, though. If you don't have a receipt , you'll end up getting back what the lowest price of the item was, and not actually what was spent!
2. Don't let gifts go to a closet to die
Don't let gifts go to a closet to die
Massie recall a friend who had the infamous tacky gift closet. It was where bad or un-useful gifts went to die. We don't mean to sound ungrateful, but we've all been the recipients of something we don't like, need or know what to do with. Think crazy sweaters or perfume that isn't your scent. You get the idea. If you do have a tacky gift closet? Make it useful. "There was a group of us that all put our unwanted gifts into the closet. If one of us liked something in there, we took it. If there was a gag gift party or some other random event where the contents of the closet were fitting, we pulled from the closet. In the end it always worked out because the items found a new use or home that wanted them," says Massie.
3. Donate
Donate
One woman's junk is another's paradise. You may not love that sweater, but there's a woman out there who will consider it her new favorite thing. If it's extra incentive, donations are tax deductible—you'll be glad you did so come tax time!
Thrift stores, The Salvation Army, Dress For Success, Goodwill, and many other places will be really good to be the recipient of your good will (or disagreeable taste, whatever the case may be!). Charity Navigator's search feature can help you find charities with specific needs in your area.
A great way to donate with a spin is a service like Freecycle. You just post the item you are trying to unload, and someone who lives nearby who needs that item will come pick it up! This is also a great asset when you are cleaning house during a move.
4. Regifting
Regifting
You have a couple of options when it comes to gifts that can't be returned. The first is simple and you've more than likely done it before: Regifting.
Regifting is simple, easy, and doesn't cost you a dime. Plus a lot of the time, it could be exactly the thing the other person wanted, so it really just works to your benefit, says Ian Aronovich, president and co-founder of GovernmentAuctions.org, a site that compiles and provides information about government auctions of seized and surplus merchandise from all over the country. Regifting is not ungrateful. It's simply knowing the item you don't need is perfect for someone else!
5. Host a gift swap happy hour
Host a gift swap happy hour
Invite friends over or meet up somewhere to exchange any unwanted gifts from the season. Make sure to set the ground rule that nobody is allowed to get upset if you see a gift you gave someone. If you liked it then here's your chance to have it for yourself!
"My family always does something similar to this: we have a "White Elephant" gift exchange and once all the gifts are opened and the game is finished, we're often swapping out items for what we'd really like and/or use. Everyone wins!" says Massie.
6. Gift Cards
Gift cards
There's loads of gift card exchanges to be found. GiftCardGranny.com, CardCash.com and CardPool.com are good places to sell or exchange gift cards to stores where you will not buy anything. Although before you sell the card consider re-gifting the card or using the card to buy a gift for someone else. Do your research and know your options.
For instance, right now Walmart is testing a program that will allow you to exchange gift cards from more than 200 retailers, restaurants, and airlines for a Walmart gift card!
7. Barter
Amazon.com offers a trade-in option for many items—books, cookbooks, children's cooks, DVDs, CDs and video games and anything "hot" like Disney's Frozen do very well, says organizing specialist Jamie Novak. If Amazon needs a new or used copy of what you have you can trade it in for Amazon.com account credit to use on any future purchase.
8. Sell
Sell
We've all eBayed gifts we don't want—but there's other options out there. Craigslist and Amazon Marketplace are options, as are good old-fashioned stoop sales. Just make sure the person who gave you the gift doesn't stop by your sale and see their gift!
If you have a gadget to unload, BuyMyTronics or Gazelle are awesome. Poshmark is also one idea you could use for your piece on what to do with gifts you can't return. It's an app that allows you to shop the closets of users across the country, kind of like eBay for fashion and accessories. You can sell and buy both women's and men's items.
Feeling lazy? Third-party sites exist that will list your items FOR you, and just send you the money when it's done!
9. Repurpose
Repurpose
In the age of Pinterest and Youtube, random items have uses we'd never imagine. Maybe you hate that ugly tree sweatshirt— but imagine how fun it will be when cut up to use as cloths to clean. It's a dose of the season the year through!
Previous
Next
BEGIN