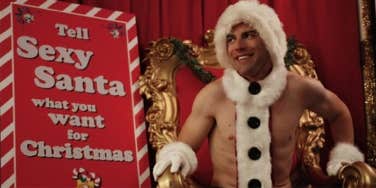 You can never have enough Schmidt.
It's Hanukkah, the week of Christmas and a time to watch re-runs while all the shows you love are on hiatus for the holidays. Even though New Girl isn't showing new episodes right now, all of the older seasons are currently on Netflix, which means it's the perfect time to go back and re-watch all of Schmidt's greatest moments — and there are a lot of them over the past four years.
There are many arguments over which New Girl roommate is in fact the best roommate. There is a strong case for Winston and his cat and a strong case for Coach, even though he hasn't been around for as long as Winston. Many people like Nick Miller (personally we think is girlish scream wins everything), but there is no one like Schmidt. No one talks like Schmidt and can get away with being straight, and he's the only one that deserves more credit than he's really getting. We are still upset Schmidt isn't nominated for a Golden Globe, but that's because Hollywood Foreign Press doesn't understand humor. Here are 11 of the Schmidt-iest Schmidt quotes of all time (that is, until the show returns on January 13 and he says something else that's amazing).
1. Schmidt on old people
"Old people freak me out. With their hands and their legs. They're like the people version of pleated pants."
Credit: IMDB
2. Schmidt on sex
"I want to wander into your Narnia of sexual terror and emerge like a freshly birthed calf."
Credit: IMDB
3. Schmidt on fashion
"Please take that off. You look like a homeless pencil."
Credit: IMDB
4. Schmidt on animals
"Can you believe the zoo wouldn't let me borrow their white tiger? I mean, the nerve! Philip Seymour Hoffman is going to be sitting at the back of the party thinking, 'Look at that guy. He couldn't even get a big cat.'"
Credit: IMDB
5. Schmidt on sex … again
"I have been able to reach completion with some very precise and vigorous nipple play."
Credit: IMDB
6. Schmidt on kitchen utensils
"Are you cooking a frittata in a sauce pan? What is this – prison?"
Credit: IMDB
7. Schmidt on Schmidt
"Can someone please get my towel? It's in my room next to my Irish walking cape!"
Credit: IMDB
8. Schmidt on contraception
"Guess whose personalized condoms just arrived!"
Credit: IMDB
9. Schmidt on bar studying
"Of course you're failing. You're studying here in a rowdy tavern, Chumbawumba's playing, and it's not even 'Tubthumping.'"
Credit: IMDB
10. Schmidt on taking baths
"Bathtubs are medieval filth cauldrons."
Credit: IMDB
11. Schmidt on wood
"Pine has no place in this loft. It's the wood of poor people and outhouses."
Credit: IMDB
Previous
Next
BEGIN